It's everything you want.
What is Everything Banking?
Dollar Bank has been thinking differently about banking for more than 165 years. We value the relationships we have with our customers, not just on the day you open your account, but later on too.
In addition to being a great checking account, Everything Checking gets you valuable relationship offers on credit cards, savings and CD rates, and loan and mortgage discounts.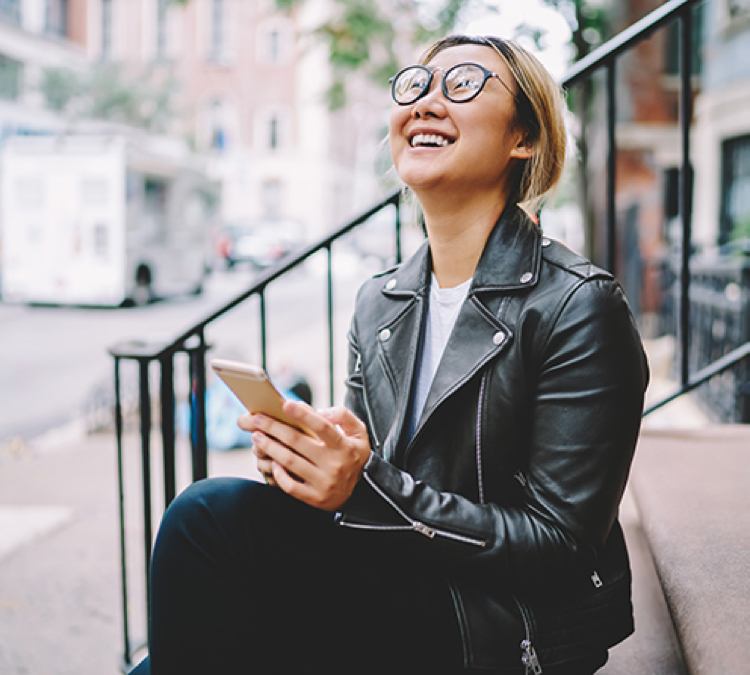 Everything Checking is the key to Everything Banking
Get everything you deserve in a checking account just by doing the things you do every day. Everyday banking makes it free, like using your debit card and paying bills. Everyone can open this account, not just high balance customers. Everything comes with it including:
No ATM fees ever from Dollar Bank: Access a network of 55,000 free ATMs with your debit Mastercard® or ATM card
Earn interest on every dollar of your checking balance
Get innovative account access including Online Banking, Text Message Banking, Dollar Bank Mobile App and Mobile Deposit... all free!*
Free Card Control App: Turn access to your debit card on or off, restrict card transactions, set up alerts and more
Fraud alerts: When we notice suspicious activity using your account debit or ATM card, we will send you a text message with purchase details so you can easily review and reply
Mobile payments with Google Pay™, Apple Pay® and Samsung Pay
Save even more with 50% off check orders
Everything Savings
Of course a checking account that offers everything you want would include a great savings account. Earn a great rate with no minimum balance or monthly service charge with Everything Savings.**
We even have a great rate on higher balances.**
Enjoy all the perks of Everything Banking
Relationship CDs — Higher rates on select terms
Dollar Bank CDs offer competitive interest options for savers every day, and Everything Checking customers have access to even higher rates.
Loan discount — ¼% rate discount
When you apply for a Dollar Bank Consumer Fixed Rate Loan or Line of Credit, we'll take 1/4% off of your rate when you have an Everything Checking Account.***
Mortgage offer - $200 off costs at closing
We always have low mortgage rates and fees. Apply for a mortgage at Dollar Bank and we'll take $200 off of your costs at closing when you have an Everything Checking Account.****
Credit card — 1.25% cash back on purchases*****
Earn cash every time and everywhere you use your Dollar Bank Rewards Credit Card. There is no limit to earning 1.25% cash back on purchases, plus there's no annual fee and a great intro rate.
Open your Everything Checking account today!
Questions? Call us at 1-800-242-BANK, Monday - Friday from 8:00 AM - 8:00 PM and Saturday from 9:00 AM - 3:00 PM.
$50 minimum to open. Everything checking requires six qualifying posted payment per month or a $2,500 average monthly checking balance to avoid a $5 monthly service fee. Rate may change after account opening.
*Message and data rates from your carrier may apply.
**Everything Savings requires Everything Checking and the rates require Everything Checking with six qualifying monthly posted payments (check, Online Banking bill payment, Telephone Banking bill payment, ACH debit, Point-of-Sale transactions - signature or PIN based). The rate for Everything Savings may change after an account is opened. All accounts are subject to terms and conditions that may change after account opening. A $50 minimum to open applies to each type of account. Ask for the Account Information Schedules for details.
***The Loan Discount is not available for the refinance of an existing Dollar Bank Consumer loan, line, or mortgage unless the refinance includes $15,000 or more of new money available or advanced. The Loan Discount does not apply to Dollar Bank Residential Lending Department loan applications.
****The $200 credit towards costs at closing applies to Dollar Bank Residential Lending Department loan applications for a single family, first lien owner occupied residential purchase or refinance mortgage loans and requires Everything Checking to remain open for three years. Everything Checking is subject to terms and conditions that may change after account opening. Ask for the Account Information Schedule for details. Offer excludes no closing cost products and government sponsored loan programs including VA and Government Bond Loans. All applications are subject to approval under Dollar Bank's underwriting guidelines. Property securing the loan must be in Dollar Bank's Ohio and Pennsylvania market areas.
*****Rebates are calculated as 1.25% of net monthly purchases (total purchases less credit and returns), which will be displayed on Periodic Billing Statements as "Cash Back Rebate." Rates and terms subject to change without notice.
Mastercard is a registered trademark of Mastercard International Incorporated.
Google Pay™ is a trademark of Google Inc.
Apple Pay® is a registered trademark of Apple, Inc.
Samsung Pay is a registered trademark of Samsung Electronics Co., Ltd.
Message and data rates from your carrier may apply to Dollar Bank Mobile Banking including Google Pay, Apple Pay and Samsung Pay services.