Get real-time account security in the convenience of a text message
With Dollar Bank's fraud alerts, keeping your accounts safe is easier than ever. When we notice suspicious activity using your Dollar Bank personal or business debit, credit or ATM card, we will send you a text with purchase details so you can easily review and respond.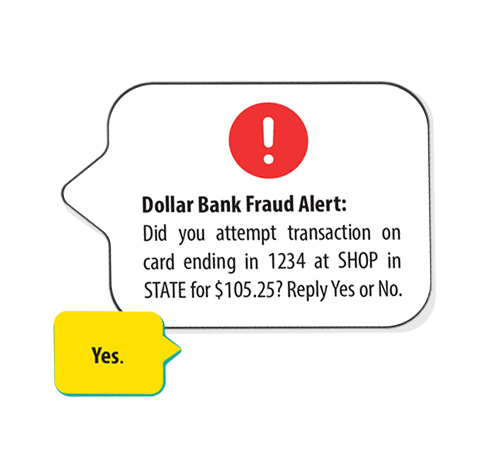 How do fraud text alerts work?
If we see any suspicious activity using your card, we will text you to ask if the purchase was made by you.
If you reply yes, the purchase was made by you, you can continue using your card.
If you reply no, the purchase was not made by you, we will block your card and you will receive a second text directing you to call us immediately at 1-877-253-8962.
To ensure no disruption to your purchasing activity, please respond to the text. If you do not respond to the text we will call you. If you are unable to respond to our text or our call, for your account safety we will block your card until we hear from you.
In some cases, your transaction may be initially declined due to suspected fraud. Once you reply back that the purchase attempt was you, we'll let you know that it's ok to try again.
Please note: Although Dollar Bank may contact you about suspicious account activity, we will NEVER contact you asking you to provide personal or account information via text message, e-mail or telephone. Do not provide this information to anyone who contacts you, even if the request appears to be coming from Dollar Bank. Instead, call us at 1-800-242-2265 or call the telephone number on the back of your card.

How do I sign up for fraud text alerts?
If you have a mobile number on file with us, you will automatically start receiving these fraud alerts to protect your account. Opt out at any time by replying STOP.
To add or update your mobile number to receive alerts for a personal card, log in to Online Banking or our mobile app and go to My Profile > Profile Updates > Phone Number. You can also call 1-800-242-2265, Monday – Friday from 8:00 AM – 8:00 PM and Saturday from 9:00 AM – 3:00 PM.
To add or update your mobile number to receive alerts for a business card, e-mail tmcsc@dollarbank.com, contact your primary branch or call 1-855-282-3888, Monday-Friday from 8:30 AM - 5:00 PM.
Dollar Bank representatives are available Monday - Friday from 8:00 AM - 8:00 PM and Saturday from 9:00 AM - 3:00 PM.
E-mail us: customerservice@dollarbank.com