Financial Wellness Program
How can Dollar Bank's Financial Wellness Program help your employees?

Dollar Bank's free Financial Wellness Program can help your employees relieve financial stress and increase productivity. Our comprehensive, hands-on program is designed to best meet the needs of your business and your employees.
On-site financial wellness seminars
One-on-one assistance from a dedicated banking team
Access to special discounts on Dollar Bank products and services
Additional online financial resources
Benefits of financially fit employees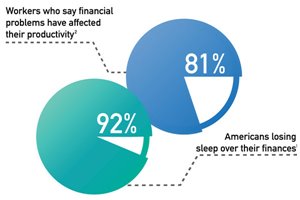 Dollar Bank's Financial Wellness Program not only helps your employees, it helps your business as well. Financially fit employees have higher levels of productivity and engagement. They also have lower absenteeism and turnover rates, as well as lower healthcare costs. Find out more today about all the benefits you'll gain from the Financial Wellness Program!
Financial Wellness Program seminars
The financial wellness seminars currently available are:
Financial Wellness Planning: Why Not Now?
Credit and Credit Score
Life and Disability Insurance
Home Purchase/First-time Homebuyers
Managing Debt
Identity Theft: Protect Yourself
Contact us about the Financial Wellness Program today!
Learn more about the Financial Wellness Program
1ComPsych
2MetLife, Inc., Supra note 12, at 13