1872 – 1956
While John Philip Sousa may have been America's march king, Pittsburgh had its own march king – and his name was Danny Nirella.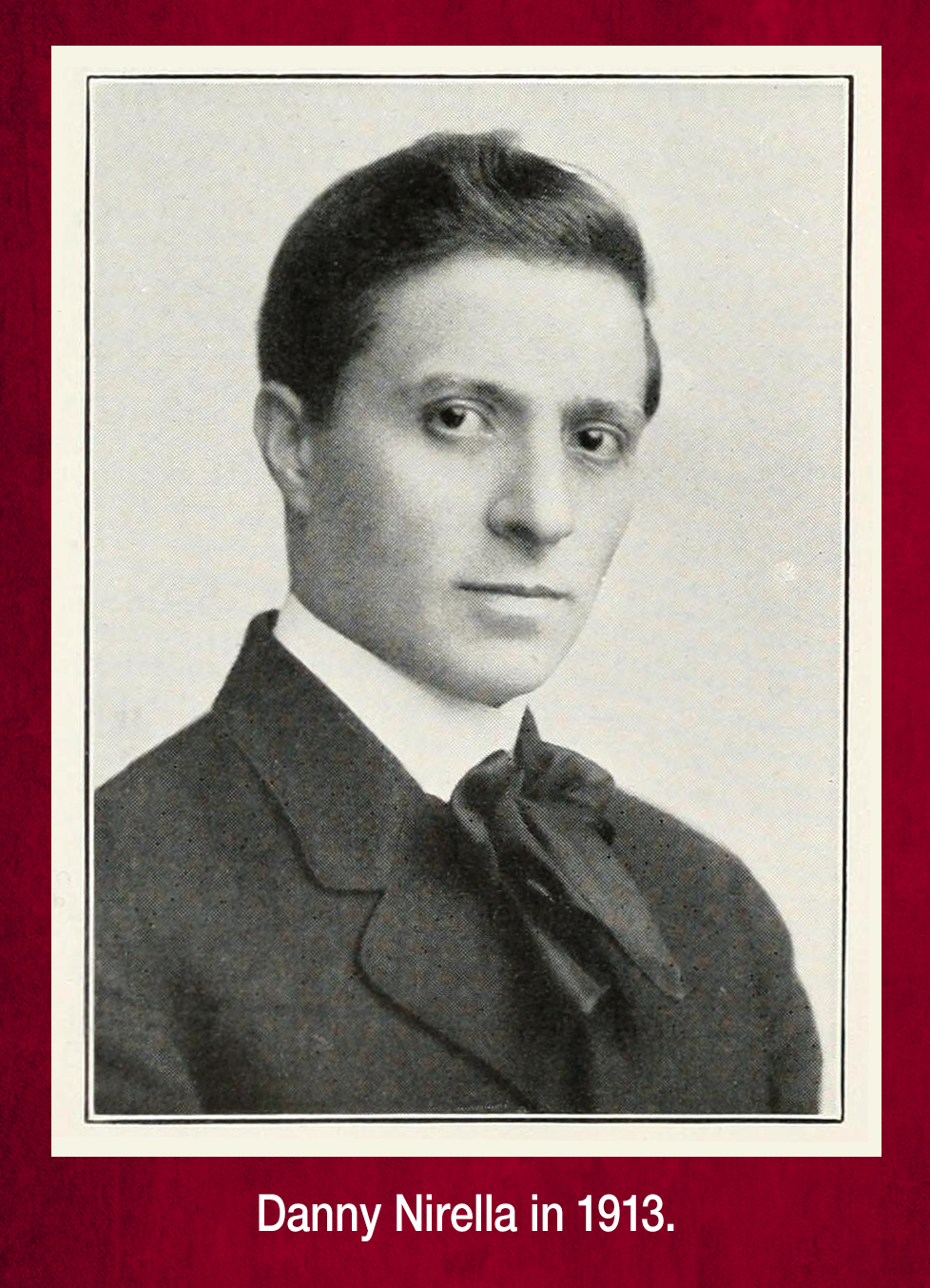 For more than 50 years, "Mr. Music," as Nirella was fondly known around town, provided the soundtrack to much of Pittsburgh's civic and social life – dinner dances at the Allegheny Country Club, free summer concerts at city parks, roller skating music and dances at Kennywood, season openers for the Pittsburgh Pirates, downtown parades, and countless private parties and weddings. If you lived in Pittsburgh in the first half of the twentieth century, chances were, you had danced, sung, skated or cheered to the music of Danny Nirella and his band or orchestra.Nirella was born Vincenzo D. Nirella in the village of Frosolone, Italy, the oldest of three sons of Carmelo (Carmen) Nirella and his wife, Angelina Cifelli Nirella. An army veteran, Carmen worked as a flour mill inspector but could not support his family on the meager wages. In 1881, he immigrated to the United States, coming directly to Pittsburgh, where he got a job with Booth & Flinn, a large construction firm.

In three years, Carmen Nirella had made enough money to send for his wife and sons to join him in Pittsburgh. Before the family sailed from Naples, Angelina bought shoes for her sons. When they could not find any boys' shoes to fit Danny, he received a used pair of women's shoes with one heel missing. Better fortunes awaited them in America.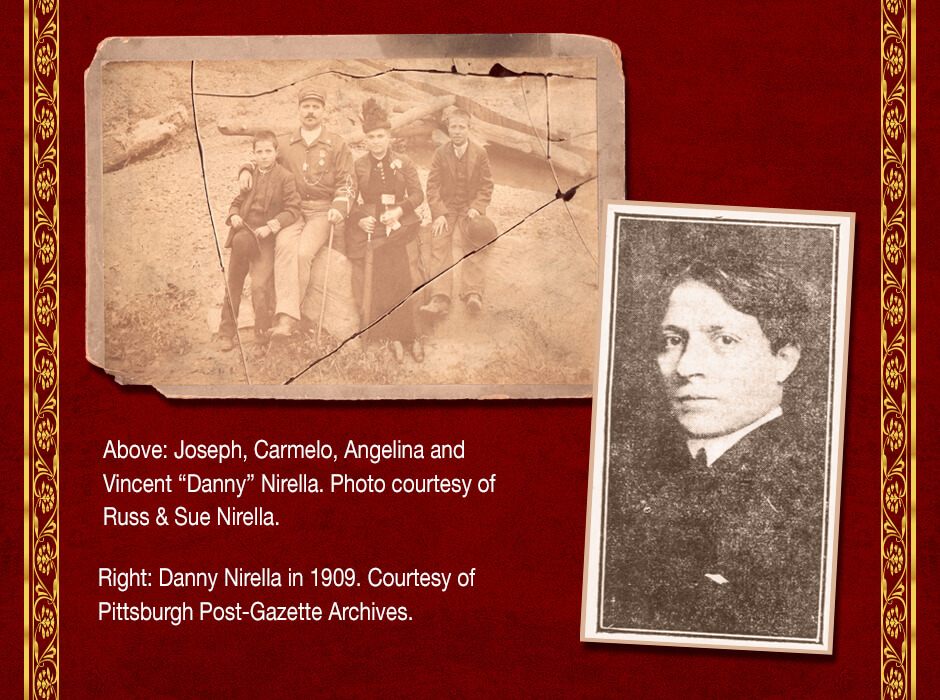 The boys went to school but rose at 4 A.M. to sell newspapers to supplement the family's income. All three were given music lessons and learned to play band instruments. Danny Nirella's instrument was the clarinet. As a youth, he played with the band for Gen. Alexander Hays Post No. 3 G.A.R., then the highly regarded Grand Army Band. He also played as part of a trio on packet boats traveling up and down the Ohio River. Using his saved earnings from these engagements, he sailed for Europe in 1896 to embark on a two-year course of formal music studies at the distinguished Leipzig Conservatory.

When Nirella returned to Pittsburgh, he formed his own band. What put Danny Nirella in the first of his many headline acts was when he assumed leadership of the Fourteenth Regiment Band in 1901. Popular programs and quality musicianship made the band a favorite with Pittsburghers at summer concerts in the city's parks. Soon the band was being billed as "Nirella's Fourteenth Regiment Band."

When John Philip Sousa and the U.S. Navy Band visited Pittsburgh in 1917 to play in a parade, it was Danny Nirella and his musicians who escorted them into the city.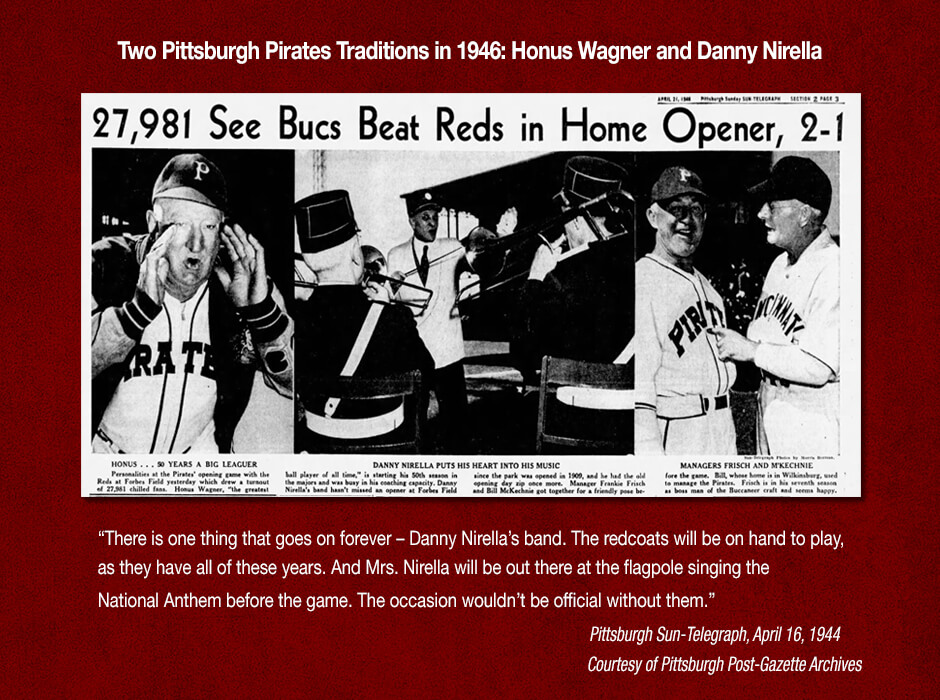 An avid baseball fan, Danny Nirella had a decades-long musical partnership with the Pittsburgh Pirates. His band played at Pirates games as far back as their days at Exposition Park. When Forbes Field debuted as the Pirates' new home on June 29, 1909, Danny Nirella's Fourteenth Regiment Band was there. The Pirates' 1910 season opened on April 21 the following year, and Nirella's band gave a concert before the game. Danny Nirella and his musicians would play on opening day at Forbes Field for the next 45 years.

Among baseball fans, the song "Tessie" is well known as the longtime anthem of the Boston Red Sox. What is less well known is how the song became associated with the club in the first place. Danny Nirella took the dubious credit for that. And the blame for the Pirates' loss when the Boston Americans (as the Red Sox were known at the time) rallied from a 1-3 deficit and came back to win the 1903 World Series. As Nirella told it to his friends, who included local sports columnists, Nirella and his band were working for the opposition that October, having been hired by the Royal Rooters to play for Boston's cheering section at Exposition Park. "Tessie," one of the most popular hit songs of 1902, was printed on the reverse side of a local furniture store ad, so when the Boston captain implored Nirella, in the doldrums of a scoreless early Game 5, to "uncan anything that will put life into my men," Nirella uncanned "Tessie." A Boston batting beatdown commenced. When Boston won the game 11-2, the Royal Rooters stuck with "Tessie" and rode the tune to victory in the series.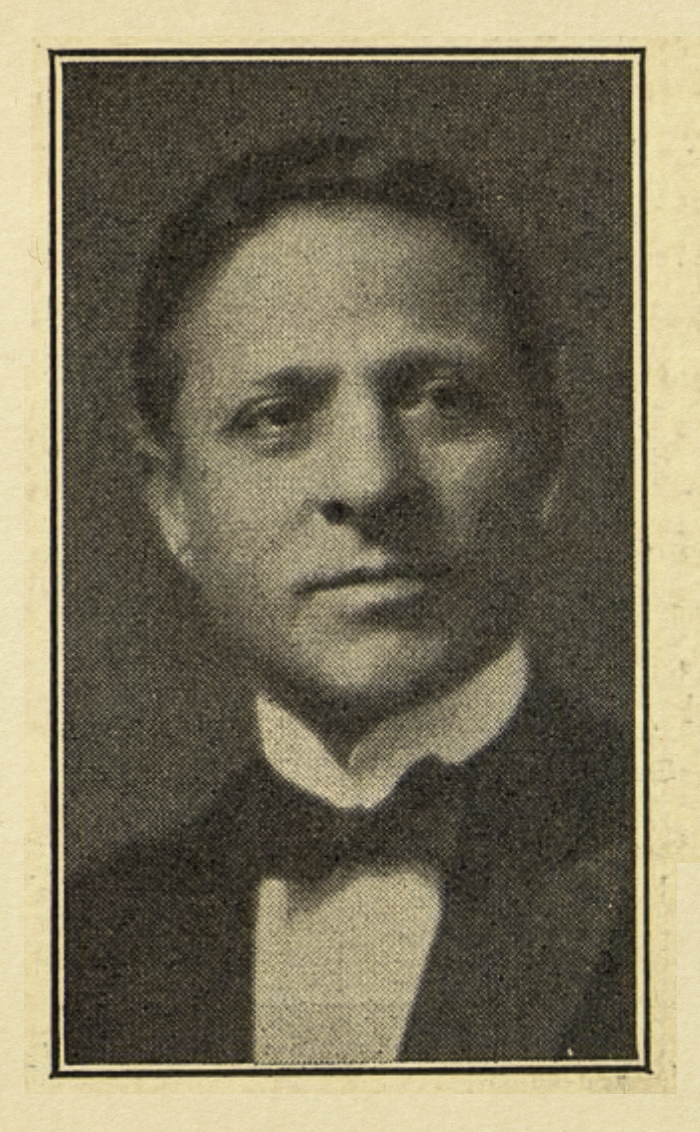 Nirella was chosen to conduct the Pittsburgh Municipal Band in 1918. Composed of the best musicians in the city, the Municipal Band played summer engagements at Pittsburgh parks. Audience sing-alongs of favorite songs were part of the entertainment, sponsored by the Department of Public Works and the Civic Club of Allegheny County.

In addition to reed and brass bands for park concerts, Nirella led a dance orchestra that played at indoor social events. Among his longstanding engagements were Saturday dinner dances at the Allegheny Country Club in summer, and winter dances at the Pittsburgh Golf Club.

No high society party was considered complete without the music of Danny Nirella and his orchestra. "The popularity of this orchestra is synonymous with music in Pittsburgh," wrote the music columnist for the Bulletin Index in 1926.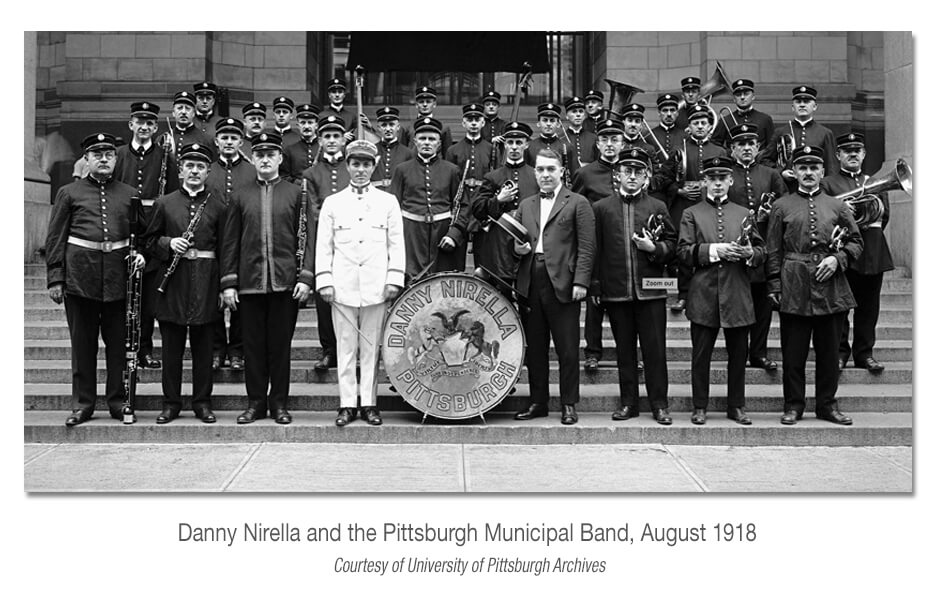 His wife of 33 years, Vera Kaighn Nirella, was a soloist at the First Presbyterian Church on Sixth Avenue. Impressed by her singing, Nirella hired her as a vocalist for special events with his band and orchestra. Vera Nirella often sang the national anthem at season openers for the Pittsburgh Pirates, while her husband led the band. She sang at World Series games in 1925 and 1927.

The Nirellas lived on South Fairmount Street and raised two sons, Vincent and Daniel.
Danny Nirella opened a savings account with Dollar Bank in 1899.
A Most Musical Family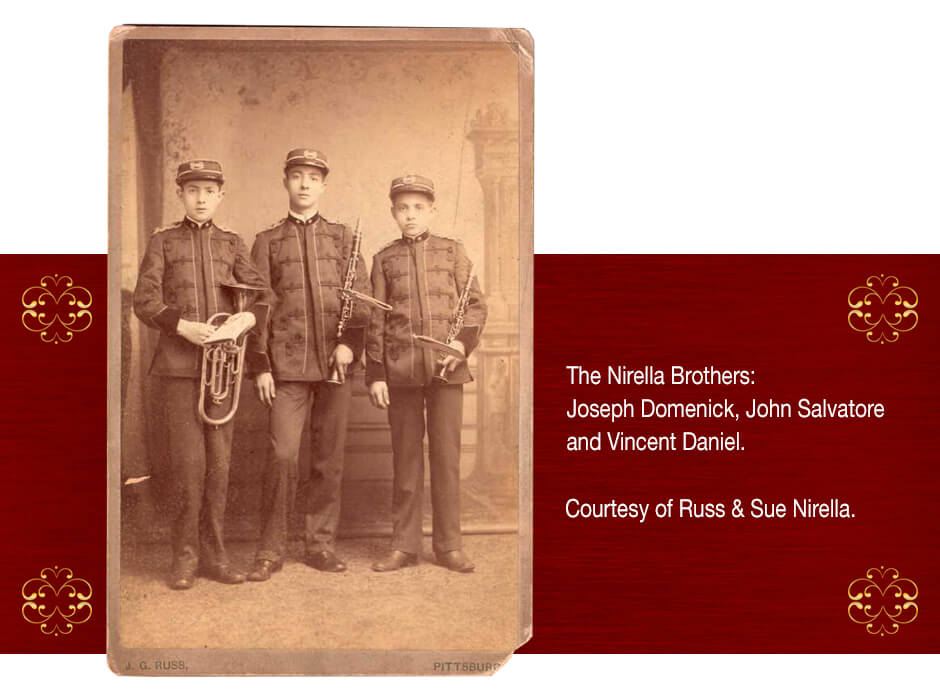 Danny Nirella's brothers, Joe and Salvatore, were also accomplished professional musicians.

Salvatore Nirella (1876-1915) played clarinet with several symphony orchestras, including the Pittsburgh Symphony under conductors Victor Herbert and Emil Paur, and the Minneapolis Symphony Orchestra. He received laudatory reviews for his solos in Mozart's Quintet in A major, K. 581, and the exquisitely lyrical "Sous Les Tilleuls" ("Under the Linden Trees") by Jules Massenet.

While he could play a variety of instruments, the specialty of Joe Nirella (1874-1949) was the cornet. He studied under Herbert L. Clarke, who played for John Philip Sousa and was considered America's finest cornet player in his day. Nirella played for the Fourteenth Regiment Band, the Grand Army Band, the Nixon Theater Orchestra and an ensemble at McCreery's Restaurant, on the ninth floor of the McCreery & Co. department store at Wood Street and Sixth Avenue.

After touring the country with the John Duss Band and Orchestra, Joe Nirella returned to Pittsburgh and formed his own band. He was hired by Westinghouse Airbrake Co. to lead their band, a post he held from 1911 through 1941. Nirella played cornet under conductors Victor Herbert, Otto Klemperer and Fritz Reiner, as well as bandleader and fellow cornetist Bohumir Kryl.

Joe Nirella opened a savings account at Dollar Bank in 1917.