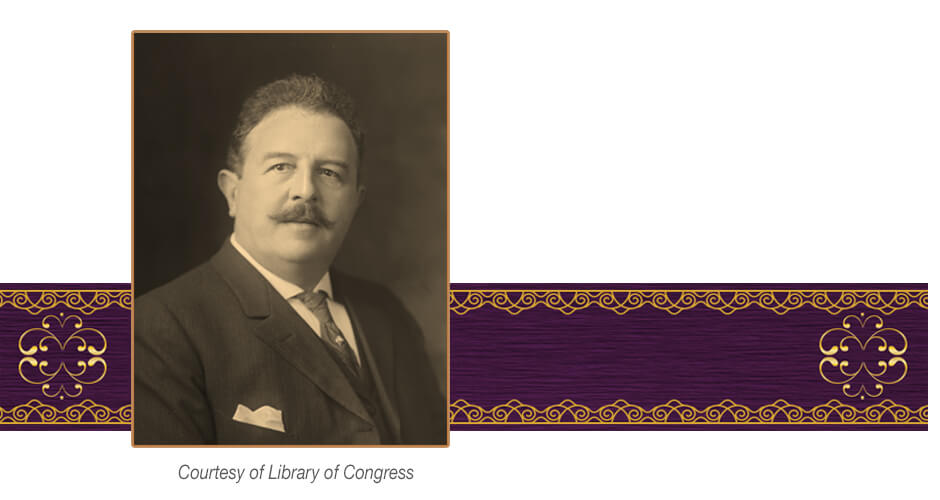 1859 - 1924
Although he lived in Pittsburgh for only six years, Victor Herbert's impact on the city's cultural life was significant. Already an established musical figure of national stature by the late 1890s, he took the reins as conductor of the Pittsburgh Orchestra when the organization was in its infancy, and within six seasons, guided it to a competitive spot as one of the best city orchestras in the country.
Born in Dublin, Ireland, Victor Herbert was the grandson of Irish songwriter and author Samuel Lover. Herbert's father, a barrister, died when Herbert was young. Herbert's mother remarried a German physician and moved the family to Germany.
From an early age, Herbert showed remarkable musical aptitude. He received musical training in multiple orchestral instruments before deciding to pursue studies as a cello soloist. For three years, he trained with German cellist Bernhard Cossman. After that, he attended Stuttgart Conservatory, where German conductor and composer Max Seifritz taught him in music theory and composition. His European training and musical influences were to resurface later in the many works he composed while living in the United States.
Herbert began playing the cello professionally while still a student at Stuttgart Conservatory. He was a cello soloist in the Viennese orchestra of Eduard Strauss (younger brother of Johann Strauss II, the waltz king), and played in a court orchestra in Stuttgart.
In the early 1880s, he began composing orchestral music. He wrote and performed the cello solos in the premieres of two of his earliest works, Suite for Cello and Orchestra, Op. 3, and Cello Concerto No. 1, Op. 8.
While playing for the Stuttgart court orchestra, he met and married a young soprano, Therese Förster. The couple moved to America in 1886 when they were both hired to join the Metropolitan Opera in New York City.
In New York, Herbert's career as a cello soloist blossomed. He formed his own orchestra and string quartet, performing at Steinway Hall. In 1888, Herbert took the post of assistant conductor of the New York Philharmonic for their summer concert series, a position he held for ten years. It was during this period of working in New York that Herbert composed his acclaimed Cello Concerto No. 2 in E minor, Op. 30, the piece that inspired fellow composer Antonín Dvořák, also then working at the National Conservatory of Music in New York City, to create his own classic concerto for the cello. Herbert's concerto has been performed by the world's best cello soloists, including Yo-Yo Ma, Lynn Harrell and Julian Lloyd Webber.
Starting in late 1894, Victor Herbert's first operettas debuted in New York City theaters. His first work, Prince Ananias, received a mixed review from the New York Times, which cited Herbert's lack of experience in the dramatic form. His second operetta, The Wizard of the Nile (1895), was a popular success, starring the comic actor and major recording star Frank Daniels, who so impressed Herbert that the composer created two more starring roles for him in The Idol's Eye (1897) and The Ameer (1899).
In early 1898, Victor Herbert was appointed conductor of the Pittsburgh Orchestra, then just three seasons young. Their home at the time was Oakland's Carnegie Music Hall, built in 1895. Herbert was an "inspired" choice, according to one of the Pittsburgh papers, bringing vitality, a solid background in serious symphonic music, and the flexibility of a theatrical composer. It was understood that Herbert would continue writing his operettas during his stay in Pittsburgh.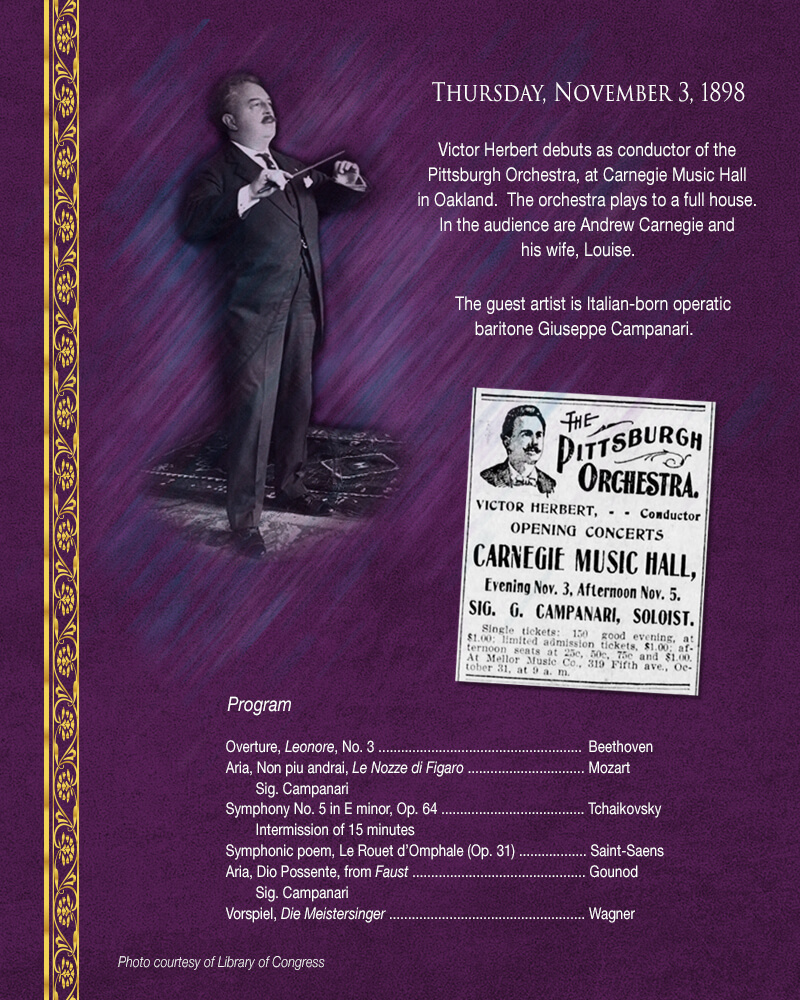 During Herbert's six years with the Pittsburgh Orchestra, 1898-1904, he grew the size of the orchestra by nearly 25%, from 53 musicians to around 65. Under Herbert, the orchestra expanded the length of its season, started doing concert tours, received guest conductors of international renown, and ultimately, most importantly, rose in status to be regarded as one of the top orchestras in the country, second only to the Boston Symphony Orchestra.

In terms of programming, Herbert mixed serious symphonic works with more popular compositions, starting the Pittsburgh Orchestra's concerts with the challenging classics and ending with lighter fare. Herbert was essentially a populist, trying to bring enjoyment of orchestral music and vocal soloists to as many classes of his audience as possible. The Pittsburgh audience responded with enthusiasm, filling Carnegie Music Hall with a packed house, concert after concert.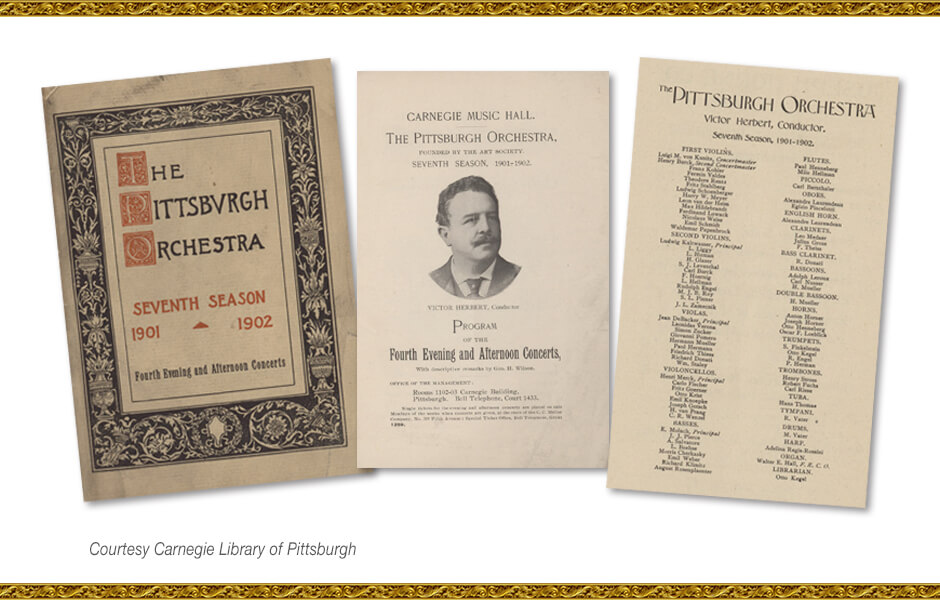 One of Herbert's most zealous supporters was Andrew Carnegie, whose funds had built the Music Hall in Oakland, and who underwrote much of the touring activity of the orchestra. Carnegie considered Victor Herbert to be a true people's conductor, a good fit for the city of Pittsburgh.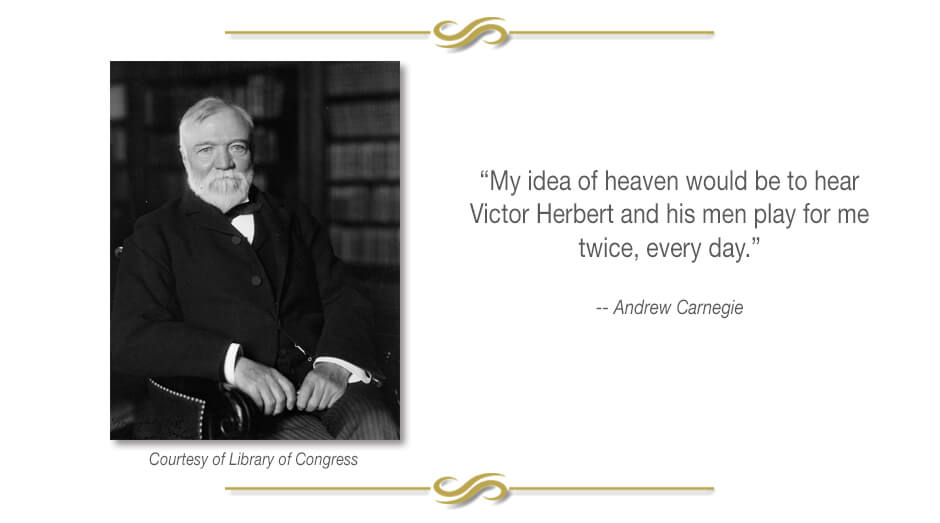 Herbert himself acknowledged that his years in Pittsburgh were some of the happiest of his life. His house on Aiken Avenue in Shadyside became a gathering place of artistic talent, drawn from Herbert's deep connections to the music worlds of both New York and Europe. The violinist Fritz Kreisler shot billiards with Herbert in between rehearsals of Schubert's String Quartet. Visiting conductor Richard Strauss and his wife were guests at the Herberts' home, where Mrs. Strauss marveled at the opulence of the quarters. Celebrated soprano Fritzi Scheff, star of the Metropolitan Opera and lead in Herbert's operettas Babette and Mlle. Modiste, appeared as a guest artist with the Pittsburgh Orchestra in its seventh season.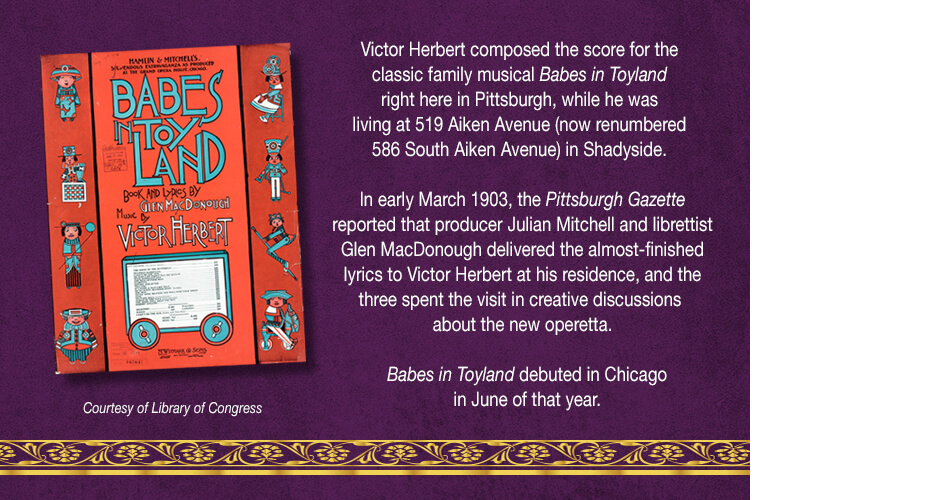 While demanding as a conductor, outside the rehearsal hall Herbert treated his musicians as peers, garnering their affection and loyalty. He invited them to his house after their Sunday concerts. The musicians gifted Herbert with a silver cup engraved with an Irish harp for one of his birthdays. During an engagement in Youngstown, when the hotel did not have enough rooms for all the orchestra members, Herbert shared his own room with the roomless players, to prevent them from having to sleep in the lobby.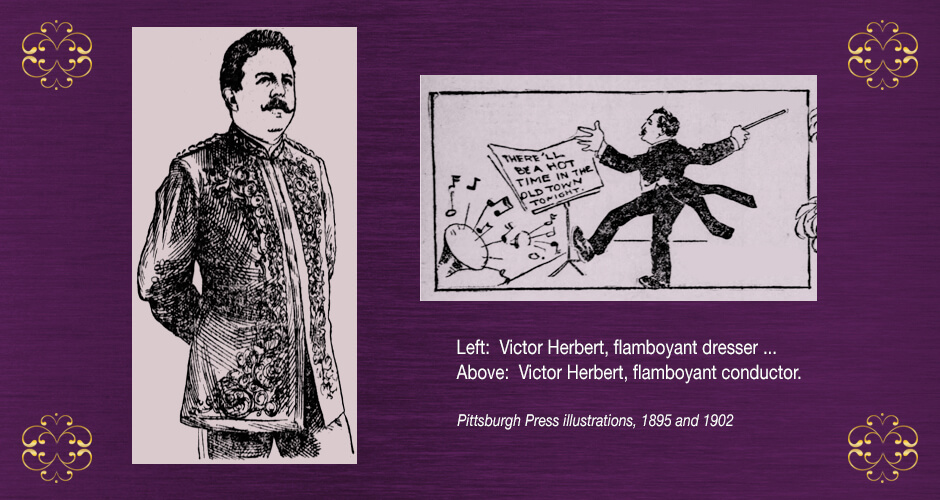 Gregarious and colorful (literally, since he was known for his colorful outfits), Herbert the bon vivant made many lasting friendships in Pittsburgh. When he became an American citizen in 1902, his citizenship oath was administered by his friend, Judge Joseph Buffington, who was also a great admirer of Herbert's works. His friends in Pittsburgh numbered in the hundreds, according to the Pittsburgh Post.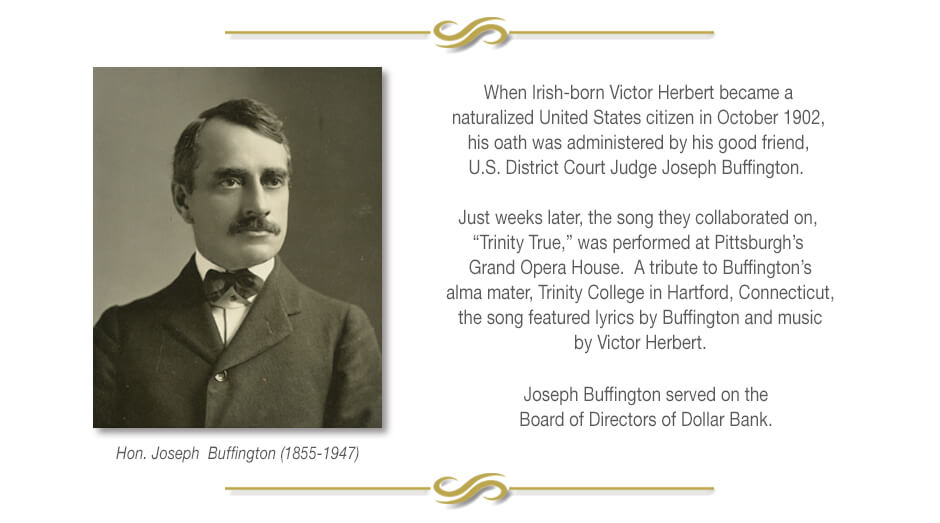 Thus, when a contract dispute with orchestra management led to Herbert's departure from his appointment in 1904 and his subsequent return to New York, it was with the well wishes of his scores of Pittsburgh friends.

Once again in New York, Herbert formed his own orchestra, became a recording star with Victor Records, and continued his success writing popular operettas.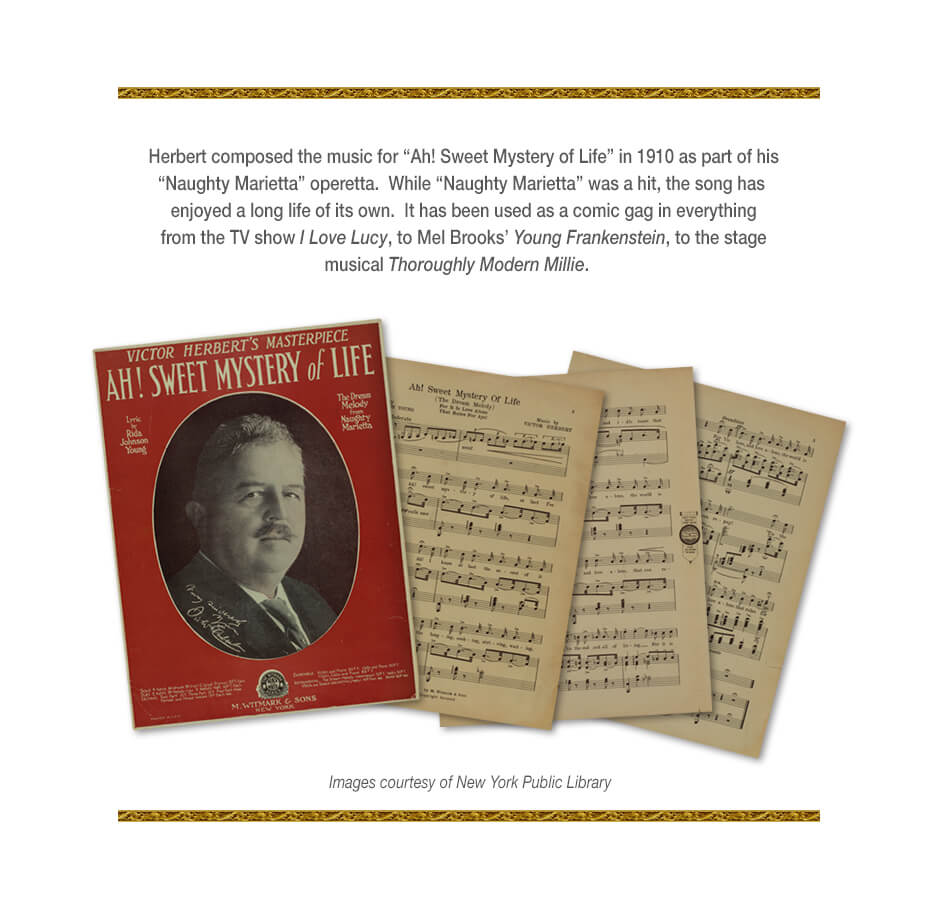 In 1914, Victor Herbert made an additional, critical contribution to the music world, as one of the nine original founders of ASCAP, the American Society of Composers, Authors and Publishers.

The story goes that Herbert had gone to dine at the posh New York restaurant, Shanley's, in October 1913. There, a house orchestra was entertaining the guests -- with one of Herbert's own show tunes from Sweethearts. When he inquired with restaurant management, Herbert was told that he would receive no compensation for use of his music. Herbert filed a lawsuit against the restaurant.

Compensation to musical artists for use of their work was, at the time, fairly standard in Europe, but not at all in the United States. Understanding the difference such royalties could make for musicians, composers and lyricists trying to make a living at their trade -- and mindful of the example of Pittsburgh's own Stephen Foster, the most popular song composer of his era, who died virtually penniless in New York in 1864 -- Victor Herbert allied with 181 other artists as charter members of ASCAP. Among those joining Herbert as members of ASCAP in 1914 were such musical luminaries as John Philip Sousa and George M. Cohan, poet and lyricist James Weldon Johnson, and legends-in-the-making Irving Berlin and Jerome Kern.

Victor Herbert died in New York in May 1924. He was honored in Pittsburgh with the performance of his composition "American Fantasy." In New York, his funeral drew thousands of men and women from the music world. The 1939 movie musical, The Great Victor Herbert, starring Allan Jones and Mary Martin, celebrated his legacy in song. That same year, lyricist Al Dubin put words to a Victor Herbert piano piece, renaming the song "Indian Summer." In 1940 the tune became a number one hit with Tommy Dorsey and Frank Sinatra, and a jazz standard was born.

When The Great Victor Herbert was re-released by Paramount Pictures in 1959, Herbert's old neighborhood of Shadyside, enjoying its reputation as Pittsburgh's Left Bank, celebrated its artistic history by recreating the look and characters of Herbert's turn-of-the-century era along a stretch of Walnut Street.

The reputation and stature of the Pittsburgh Symphony Orchestra as one of the great orchestras of the nation, nurtured by Victor Herbert more than a hundred years ago, has continued under the inspired leadership of a series of outstanding conductors and music directors.