Immigrant Customers, 1855 Through the Early 1900s
Pittsburgh, it is said, is a lunch pail kind of town. Plain, proud, strong, hard-working. For more than a century, the region supplied the glass, coal and steel for much of the nation.

In the 1800s and early 1900s, Pittsburgh's industrial growth attracted large numbers of immigrants, who were looking for work, opportunity and liberty in America.

Dollar Bank's immigrant depositors from this era reflect the city's own immigrant history, a history rich with vibrant ethnic communities and unique neighborhoods.
Patterns of Immigrant Customers Over the Decades
A survey of Dollar Bank's savings account ledgers demonstrates the evolving patterns of immigration among our customers from 1855 through the 1920s.

During Dollar Bank's first fifteen years, about half of our customers were immigrants. The two largest immigrant groups, both in Pittsburgh and among our depositors, were Germans and Irish. The British Isles and Germany constituted the most common birthplaces of immigrant customers up through the 1880s.
Over the next two generations, immigrants from Central, Southern and Eastern Europe made up an increasing percentage of Dollar Bank's new customers.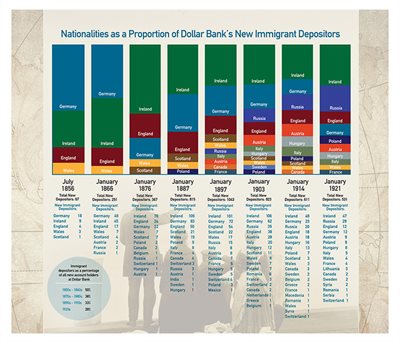 Stories of Dollar Bank's Immigrant Customers
German
When Dollar Bank opened in 1855, the two largest immigrant groups in Pittsburgh were Irish and German. German immigration to the mid-Atlantic U.S., and Pennsylvania in particular, had been substantial since colonial times.

Immigrant communities in Pittsburgh had their own social clubs, houses of worship, mutual aid societies and newspapers.

Pittsburgh's German immigrants were no exception. Pittsburgh had not one but two popular German-language newspapers, Volksblatt, and Freiheits Freund. Dollar Bank advertised in both publications.

Dollar Bank depositor Anton Frank Haeling, who opened savings account No. 99472 in 1886, was a lifelong newspaperman and, in the 1880s, editor of the Volksblatt. Pianist and music teacher Professor Henry Rohbock, who had emigrated from Germany in 1846, opened his savings account with Dollar Bank in 1881. George Limbach (1879) drove a beer wagon.

Brothers Morris and Jacob Kaufmann, co-founders of the iconic Kaufmann's Department Store, left their home in Viernheim, Germany, and settled in Pittsburgh. They became Dollar Bank depositors in 1888 and 1890, respectively.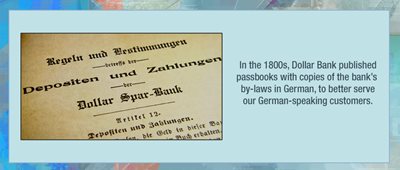 Brewers, bakers, barbers and cabinet makers were some of the most common occupations listed by Dollar Bank's German immigrant depositors.
Irish
Irish immigrants were some of the earliest residents of Pittsburgh, and they continued to arrive in great numbers for nearly a century. County Down and County Tyrone were heavily represented as places of birth among Dollar Bank's Irish immigrant depositors in the 1850s through the 1870s, but depositors came from all over Ireland. County Derry native Marcus McGonegal, a laborer, opened his Dollar Bank savings account in 1858. Thomas Kitchen (savings account in 1860) was a marble polisher from County Armagh.

Bridget Donahue (1871) was a dining room girl at the Homeopathic Hospital of Pittsburgh. Dennis Gallagher (1879) was a student at St. Vincent College in Latrobe. William Ritchie (1886) worked as an oil well driller.

Young Irish women who immigrated to the United States when they were single, poor, and often illierate, found employment as domestics in the homes of wealthy professionals and industrialists. Bridget Flanigan, Lizzie Conway, Kate Riley and Rosa Sweeney were four such Irish women, all working as domestics. Each opened a savings account at Dollar Bank in 1877. Unable to write their own names in the bank's signature ledgers, each signed with a mark ("x" sign) beside the bank clerk's recording of her name.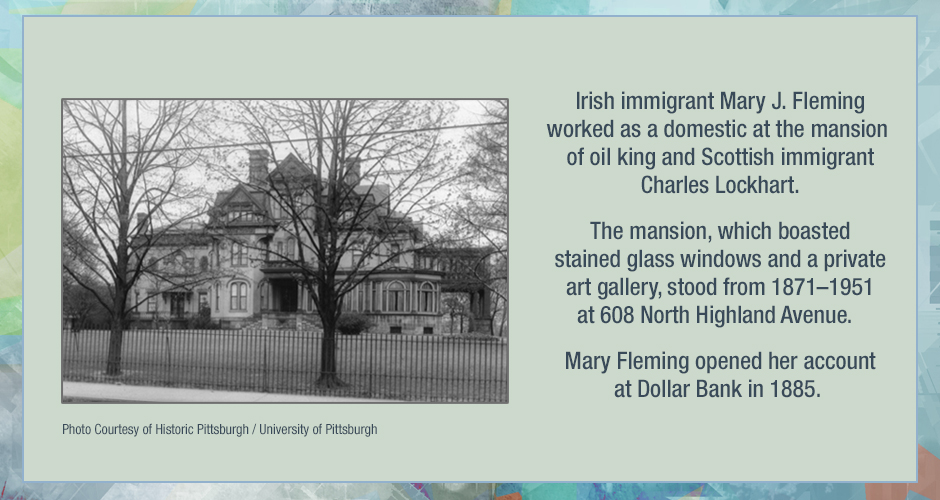 James Phelan was an immigrant success story. Born in Dublin, he made the voyage to America alone, at age 9. He lived with an uncle in Philadelphia until he was 16, when he came to Pittsburgh. Four years later, in 1850, he opened a men's attire store on Fifth Avenue, and ran that business successfully for the next 50 years, handing it to his sons when he retired. Mr. Phelan was issued a mortgage by Dollar Bank in October 1883. He lived on Bartlett Street in Squirrel Hill.

A proud Irishman in a city full of Irish immigrants and their descendants was composer Victor Herbert (1900), who conducted the Pittsburgh Orchestra from 1898-1904.
Italian
Although Italian immigrants did not arrive in America in great numbers until the late 1800s, by 1870 there were already several hundred living in Pennsylvania.

Dollar Bank's first Italian immigrant depositor was Fortunato Casetta, a plaster of Paris artisan from the province of Lucca. He opened savings account No. 698 in November 1856.

Giocomo Rosa (opened savings account in 1871) was a fresco painter whose work was displayed in SS Peter and Paul's Catholic Church in the East End. Peter (Pietro) Pipolo (1890) was a lamplighter, back when Pittsburgh had gas-powered street lights. Giuseppe Luzzi (1892) and Polo D'Amico (1908) were tailors.

Occupations in the food business were common among Italian immigrants. Victoria Nardini (1869) and her husband Joseph arrived in America as teenagers and set up a fruit stall in the Market House on the North Side. After her husband's death, Mrs. Nardini, her children and grandchildren continued to run the fruit stall for more than 60 years.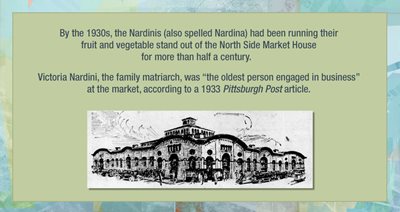 Lucca, Italy native Giovanni Pasquinelli (1892) listed his occupation as "Ice Cream Factory" when he opened his savings account at Dollar Bank, but soon after he switched to running a grocery store and meat shop, specializing in Italian-spiced meats. Mr. Pasquinelli was related by marriage to the Tambellinis of Lucca, Italy. Leo Tambellini, a fruiterer, opened a savings account at Dollar Bank in 1916. At least 13 Tambellinis had savings accounts with Dollar Bank before 1920.
English
English dancer Jennie Eagan was 24 when she opened a savings account with Dollar Bank in 1869. Her variety troupe was in Pittsburgh performing their show of songs, dances, comedy and acrobatics at Trimble's Varieties Theater, on Penn Avenue. Over a stage career that lasted at least fifteen years, Eagan would play Pittsburgh three times, while touring other cities such as Boston, Philadelphia, New York, Detroit and Indianapolis.
Francis Blount (1864) owned Blount House in New Brighton, Beaver County. Built around 1848, Blount House was a hotel catering to travelers on the Beaver and Erie Canal. Blount was born in Derbyshire, England.

Josiah Pearce (1872) was a machinist who organized Josiah Pearce & Sons. With his sons Fred and Gene, he started out operating a steamboat for tourists on Conneaut Lake, but the company soon transitioned to designing and constructing rides for amusement parks. Josiah Pearce & Sons expanded into the then-new field of motion picture theaters, constructing dozens of theaters throughout the South, including the first movie theater in New Orleans.
Jewish
Dollar Bank's Jewish immigrant customers were represented in two distinct eras. The first was the immigration of German Jews, a number of whom had already settled in Pittsburgh before Dollar Bank was founded in 1855. These early Pittsburgh citizens were among the founders of Rodef Shalom, the oldest Jewish congregation in Western Pennsylvania.

Benjamin Oppenheimer (1856), his brother, Moses (1862), and Moses' wife Julia Frank Oppenheimer (1885) were all Dollar Bank depositors. The brothers ran a clothing store in downtown Pittsburgh.

Born in Bavaria, accountant Jacob Affelder (1862) lived on Sheffield Street in Allegheny City (later North Side). Like the Oppenheimers, he was a member of Rodef Shalom, and other members of his family -- brother Lewis (1862) and brother-in-law Solomon Fleishman (1862) -- were also Dollar Bank customers.
The second distinct era of Jewish immigration came later, around the 1890s, with Jewish families fleeing the pogroms in Eastern Europe. These immigrant depositors often listed Russia or Poland (or "Russia-Poland") as their place of birth, but the actual locations might range across the modern borders of Belarus and Lithuania.

Among this second group of Jewish immigrants, peddler and toby-maker ("toby" was the Pittsburgh version of the stogie) were two of the most common occupations. Unlike the German Jewish immigrants of earlier generations, a number of these immigrants were unable to write their names in English. However, they were literate in Hebrew, and so they signed their names in that language when they opened their accounts at Dollar Bank.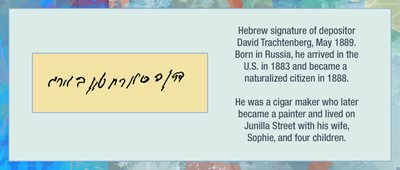 Polish
Antoni Wyszynski (1886) was a laborer who later got a job as a shearsman at Jones & Laughlin. Wyszynski lived on South 21st Street on the South Side.

Anton Jurewicz and Dominick Gacyn were co-workers in a Soho pipe mill. Also roommates, they lived on Tustin Street, above the grocery store of James Cain. The mills of Soho (now a part of Uptown, near the Birmingham Bridge) employed many Polish immigrants.

Father Apollonius Tyszka (1918) was a Roman Catholic priest. He immigrated to the United States in 1890 and became a naturalized American citizen two years later. Among the churches he pastored were St. Patrick's Church in Canonsburg, Holy Name Church in West Newton, and St. Hyacinth's in Oakland.
Greek
Born in the fishing village of Tyros, Greece, George L. Korologos (1908) was a waiter at the Hotel Lincoln on Penn Avenue. George D. Spanos (1908) was a cook at McCreery Co. department store, where the large and opulent dining room could seat more than 200 people.

Theodore Leonis (1886) painted blast furnaces, mills and bridges. His business was on Liberty Avenue in the Strip District. Leonis became an American citizen in 1892.
Cuban
Esteban D. Estrada (1886) earned his engineering degree in the United States and worked for the railroad before opening his own engineering firm in downtown Pittsburgh.
Hungarian
Steelworker Ferencz Vasko, of Four Mile Run, was twenty-four when he opened his savings account in September 1890. Mary Demjanovic (1919) and her husband John ran a neighborhood grocery store and meat shop on Preble Avenue on the North Side.
Syrians
By 1900, more than 100,000 Syrians had immigrated to the United States. Syrian communities existed not only in major cities like New York, Boston, Chicago and St. Louis, but also in smaller towns throughout the country -- Eastport, Maine; Mangum, Oklahoma; Muncie, Indiana; and Butte, Montana.

In Pittsburgh, Syrian immigrants settled in the area around Basin Alley in the Hill District. As of 1903, the Syrian population in Pittsburgh was approximately 600. The most common occupation among Syrian men was peddler.

Dollar Bank's earliest known Syrian immigrant depositors opened savings accounts in the 1890s, starting with Mossi Tanous Shahla in September 1890 and Romenos Halle the following month. Thoma Jabor, George John Serkes and George Padway became customers in 1903.

In 1902, roommates Constantin Naclas, a canvasser, and Elias George, a salesman, opened savings accounts. They lived at 37 Washington Place in the Hill District. Born in Mashta al-Helu, Syria, Elias George later moved to Blair County, where he became a successful confectioner and grocery store owner.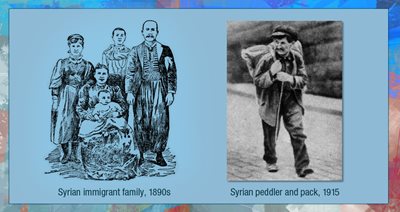 Chinese
Chin Guan (1882) and Yee Sing (1888) were two of Dollar Bank's earliest Chinese depositors. The Chinese immigrant community in Pittsburgh settled initially around Second and Third Avenues between Ross and Grant. Chinatown was a distinct part of the city's downtown landscape for about fifty years before its residents dispersed.


Where They Came From