Squirrel Hill Residents Who Were Early Dollar Bank Customers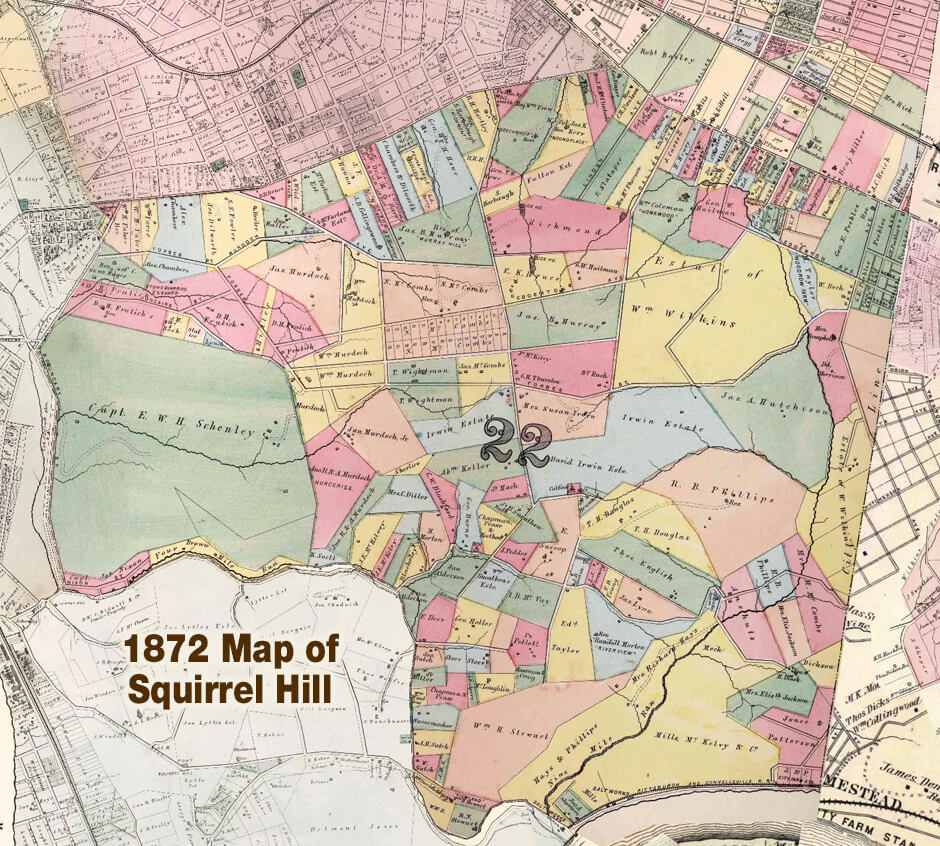 Farms and Homesteads
Squirrel Hill's pioneer settlers arrived in the mid-1700s, establishing farms and orchards and building log cabins for their homes. The area remained a rural farming community for well over another century.

Dollar Bank depositors who were identifiable as residents of Squirrel Hill began opening savings accounts in the late 1860s, little more than a decade after the bank's founding.
Annie Succop
On September 8, 1868, Annie Succop, age 13, opened a savings account at Dollar Bank. Annie's father, Ernest Succop, owned an 18-acre farm bordered on the east by what would become Beechwood Avenue by 1903. Annie's mother was Annie Pedder Succop, daughter of neighboring farmer John Pedder.

Ernest Succop sold off parcels of the farm over succeeding decades -- about 6 acres to J.W. Geyer in the 1880s, and 11.5 acres with 900 feet of frontage on Beechwood Boulevard, for $85,000 in June 1900. One of the purchasers in 1900 was Frank C. Kohne, Annie Succop's husband. By 1903, the Forward Land Company owned most of what had previously been the Succop Farm.

The Succop homestead itself, at 6369 Forward Avenue, remained occupied by Annie Pedder Succop until her death in 1916. The family rented it out for several years before selling it to Jacob Little for $14,000 in January 1920. Annie Succop Kohne remained a lifelong resident of the East End.
Sidney Ann English
Sidney Ann English, 27, opened her savings account with Dollar Bank in May 1869. Her father, Thomas English, owned 38 acres in Squirrel Hill. The westernmost portion of his farm bordered the Succop property. Some time between 1896 and 1899, Mr. English sold his 38 acres to Henry Clay Frick. The farm became part of the land which, after Frick's death in 1919, was bequeathed to the City of Pittsburgh as Frick Park. English Lane preserves the name of the farm family from the late 1800s.

Sidney Ann English remained a Pittsburgh resident until the 1890s, when, with her sisters Mary and Anna and brother James, she retired to a farm in Unity Township, Westmoreland County.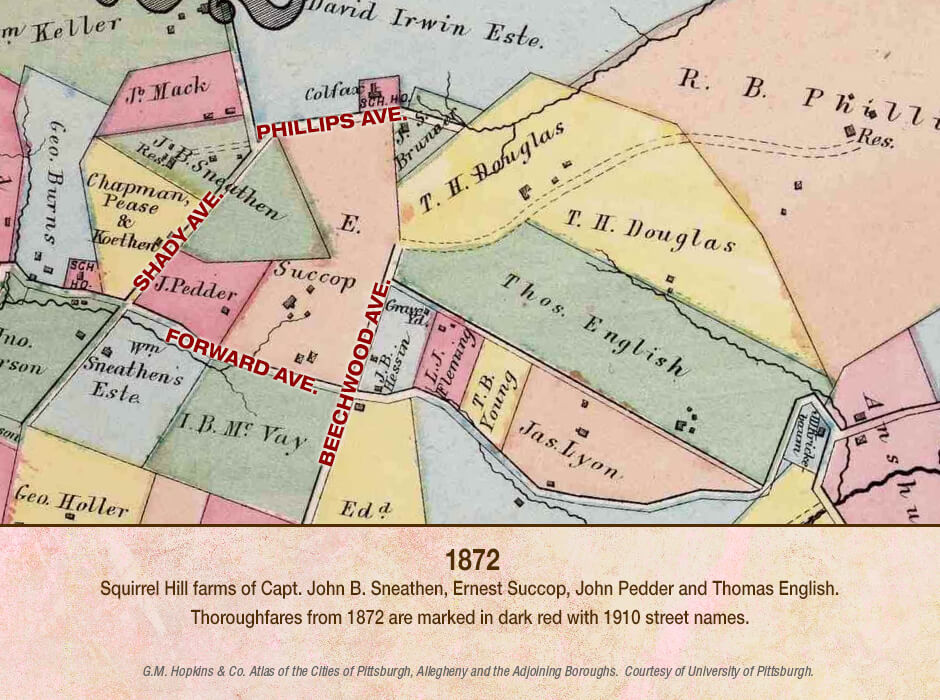 John C. Sneathen
Dollar Bank depositor John C. Sneathen (1871 savings account) was the oldest son of Captain John B. Sneathen, a riverman and coal merchant. The Sneathen family had three servants who lived with them at their homestead and helped maintain the house and farm. John C. Sneathen followed his father into the coal shipping business, and was also affiliated with wholesale produce sellers Thomas McGowan Company and Andrew Brothers. Mr. Sneathen taught a bible class at Emery Methodist Episcopal Church and lived on Stratford Avenue in Friendship with his wife, Jennie, and their two sons and two daughters.
Daniel Hefti
Swiss immigrant Daniel Hefti, who opened his account at Dollar Bank in 1871, was a 17-year-old laborer in Squirrel Hill's farm community. In the mid-1870s, he enrolled at St. Vincent College in Latrobe, where he studied the school's rigorous Classical Course. His classes included Greek, Hebrew and Latin, as well as geometry, algebra and astronomy. Hefti excelled at Gregorian Chant and received distinguished marks in that pursuit. He was ordained as a Benedictine monk in 1882 and joined Belmont Abbey Monastery in North Carolina.
Eleanore Hutchison
Eleanore Hutchison , who opened her account with Dollar Bank in 1875, came from a distinguished family. Her maternal grandfather was Judge William Wilkins, a former U.S. Senator and Secretary of War under President Zachary Taylor. Wilkinsburg, Pennsylvania was named after him. Eleanore Hutchison's aunt on her father's side, Eleanor "Ellen" Maria Hutchison, was married to Edwin Stanton, a lawyer who served as Secretary of War under Abraham Lincoln.

The Hutchisons had a house in the city, on Penn Avenue, and considered "Gunn's Hill," the Squirrel Hill residence, their country estate. Gunn's Hill adjoined the estate of the Wilkins family. The 100-acre Gunn (Gunn's) Hill tract was purchased by Henry Clay Frick from the Wilkins family and gifted to the City of Pittsburgh as part of Frick Park. Some time in the 1880s, Eleanore's father, James A. Hutchison, moved most of his family to Chicago.
Depositors From Squirrel Hill After 1900
Residential Neighborhood
In the last decade of the 1800s, two things made Squirrel Hill an attractive prospect for development as a suburban neighborhood: first, the opening of Schenley Park in 1889; second, the installation of a passenger rail line in the early 1890s.
With those elements in place, investors and developers began snapping up land in the 22nd ward. The Squirrel Hill boom was on. The old farm community disappeared acres at a time, replaced by development tracts and infrastructure projects. A 1902 item in the real estate section of the Pittsburgh Press quipped that Squirrel Hill was "illiberally decorated with 'For Sale' signs."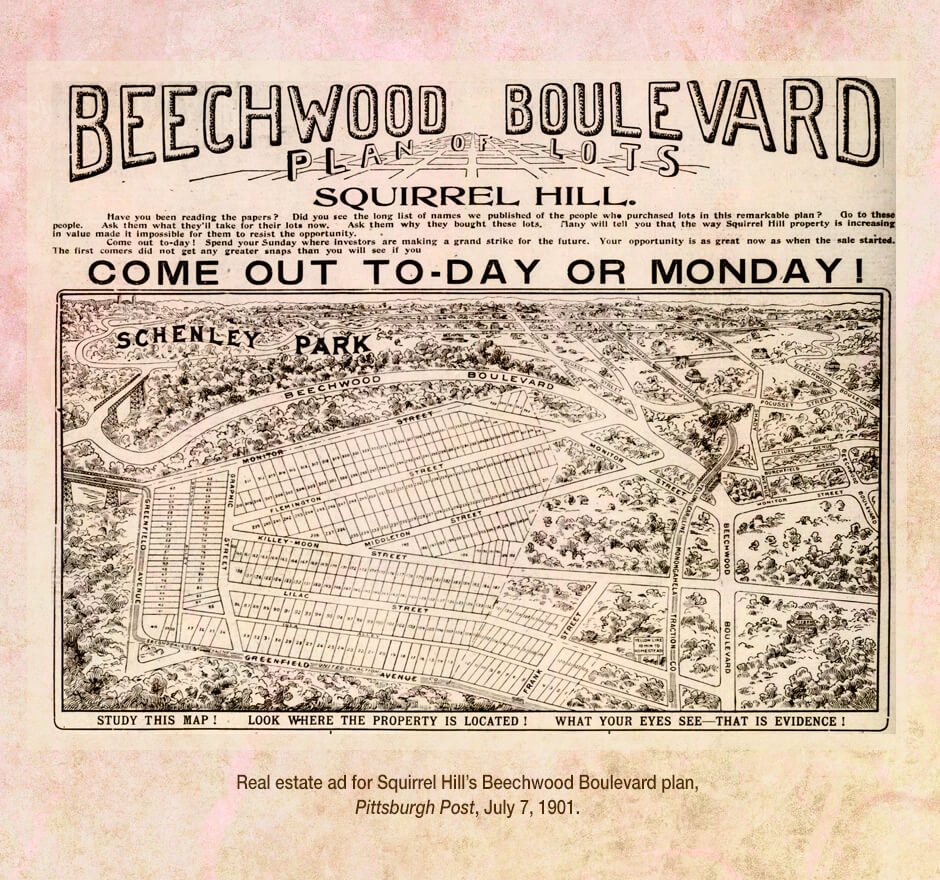 After 1900, Dollar Bank depositors who made their homes in Squirrel Hill came from many walks of life. Manufacturers, merchants, professionals and domestics were all represented. Here is just a sampling of people from the Squirrel Hill community who became Dollar Bank customers in the early 1900s:
James Phelan
Irish immigrant James Phelan started a men's clothing store in downtown Pittsburgh. He ran the store successfully for 50 years before handing it over to two of his sons. Phelan, who had been issued a mortgage by Dollar Bank in 1883, built a house at 5801 Bartlett Street (on the northeast corner of Bartlett and Murray Avenue) in either 1901 or 1902. His son, successful auto dealer Alexis X. Phelan, bought a posh 15-room house for $45,000 just a few doors away in 1903.
Solomon Bachman and Violet Bachman
Solomon Bachman and his daughter, Violet R. Bachman, both opened their accounts on the same day in December 1907. Mr. Bachman, an immigrant from Germany, had worked as a merchant tailor before becoming a salesman of ladies' suits. Violet Bachman was a stenographer at a tinplate company. The Bachmans lived on Winebiddle Avenue at the time they opened their accounts, but later moved to 5712 Forbes after Mr. Bachman got hired as a salesman at Kaufmann & Baer department store.
Herman Lechner
Born in Mt. Troy, downtown merchant Herman Lechner (1908) ran a successful piano store started by his father in the 1880s. Mr. Lechner lived at 5832 Beacon Street. A theater enthusiast who dabbled in acting and playwriting, Lechner was fascinated by the intersection of entertainment and technology in the early 1900s. He co-founded a "talking machine" company and a motion picture distribution firm. He was also a member of the Minnetonka Canoe Club, which sponsored picnics, skating parties and annual regattas, as well as athletic competitions against other similar clubs.
Abe DeRoy
Son of Joseph and Lydia DeRoy, jeweler Abe DeRoy was one of several members of the DeRoy family who had accounts with Dollar Bank. For many decades, the DeRoys owned jewelry stores that were fixtures on Smithfield Street in downtown Pittsburgh. Abe DeRoy and his wife, Belle Feuchtwanger DeRoy, made their home at 5731 Bartlett Street. They were members of Rodef Shalom. Mr. DeRoy opened two savings accounts in July 1908 in trust for his children, Kitty and Mayer.
John L. Ritchey
Attorney John L. Ritchey (1907 savings account) lived at 5610 Northumberland Street with his wife, Ada Hutchinson Ritchey, and their four children. He had been admitted to the Allegheny County Bar Association 1891. Ritchey handled a number of different legal matters, including estates, bankruptcies and business contracts. His most high-profile work was done in 1905, when he was one of two public defenders appointed by the court in a headline-grabbing murder case. His client was acquitted.
Carrie E. Merrick
Carrie E. Merrick (1909), a dressmaker and buyer for Joseph Horne Co., traveled to New York City regularly on business, where she stayed at such popular hotels as the Waldorf and Hotel Wolcott. In Pittsburgh, Merrick was involved with theater and was one of the volunteers who helped arrange the annual company picnic for nearly 2,500 Horne's employees. She lived with relatives on Lehigh Avenue and South Graham Street before purchasing her own home on Claybourne Avenue in Shadyside.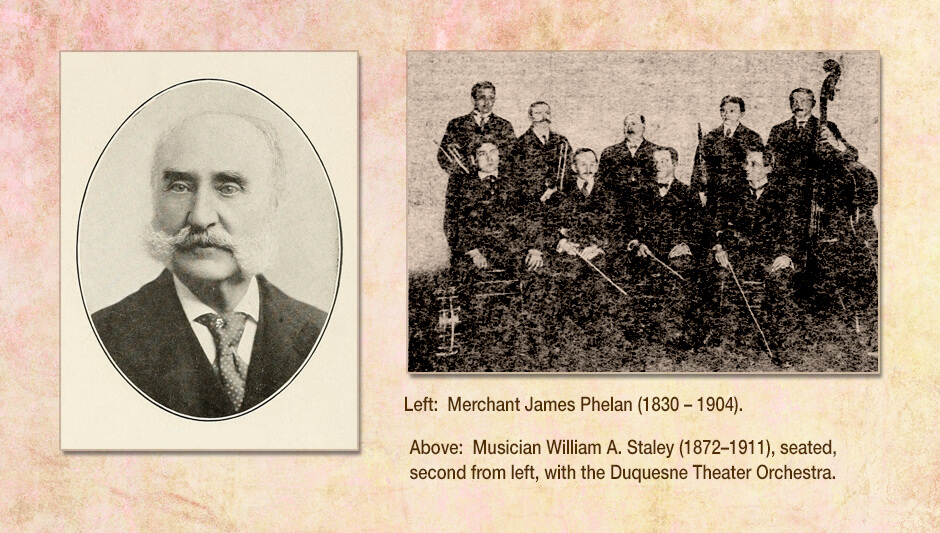 William A. Staley
William A. Staley (1908) was one of the most popular and well-known professional musicians in the city. He played first violin and viola in the Pittsburgh Orchestra for four seasons under conductors Frederick Archer and Victor Herbert. He conducted nearly every theater orchestra in Pittsburgh, including those of the Alvin, Bijou, Grand, Avenue, Duquesne, and Lyceum Theaters. He was also vice president of the Pittsburgh Musical Society, Local No. 60, American Federation of Musicians. Staley and his wife, Harriette Hale Staley, lived at 1049 Murray Hill Avenue.
Robert W. Wilhelm
Son of German immigrants, Robert W. Wilhelm listed his occupation as machinist when he opened a savings account with Dollar Bank in 1913. He was the founder and proprietor of Wilhelm Die & Stamping Company. His son, Robert H. Wilhelm, whom he opened the account in trust for, went on to graduate with an engineering degree from the University of Pittsburgh and rose to the rank of captain in the U.S. Army Corps of Engineers in WWII. The Wilhelm family lived at 1210 Wightman Street.
Mary McInerny
Born in the small town of Milltown Malbay, County Clare, Ireland, Mary McInerny sailed from Queenstown to America in either 1912 or 1913. After landing in New York, she traveled to Pittsburgh, where she found employment as a live-in maid in the home of coal company president Thurston Wright and his wife, Virginia Frew Wright. The Wrights lived at 1101 Shady Avenue. Mary McInerny opened her account with Dollar Bank in 1916, and was still working for the Wrights as late as 1924.
Mary J. Kilroy
Mary J. Kilroy was the wife of James J. Kilroy, a foreman for the City of Pittsburgh's Bureau of Parks. They were the parents of seven children. The Kilroys lived on Wilbert Street in Mt. Washington before moving to the East End. When Mary Kilroy opened her account with Dollar Bank in 1920, the family made their home at 3328 Beechwood Boulevard.
The Kaufmann Family
The Kaufmann family, founders of Pittsburgh's iconic department store, were North Side residents before many of them moved to Squirrel Hill when it became a residential neighborhood. At least five Kaufmanns were customers of Dollar Bank, including brothers Jacob and Morris Kaufmann, who opened their savings accounts in 1890 and 1888 respectively. Read more about the Kaufmann family.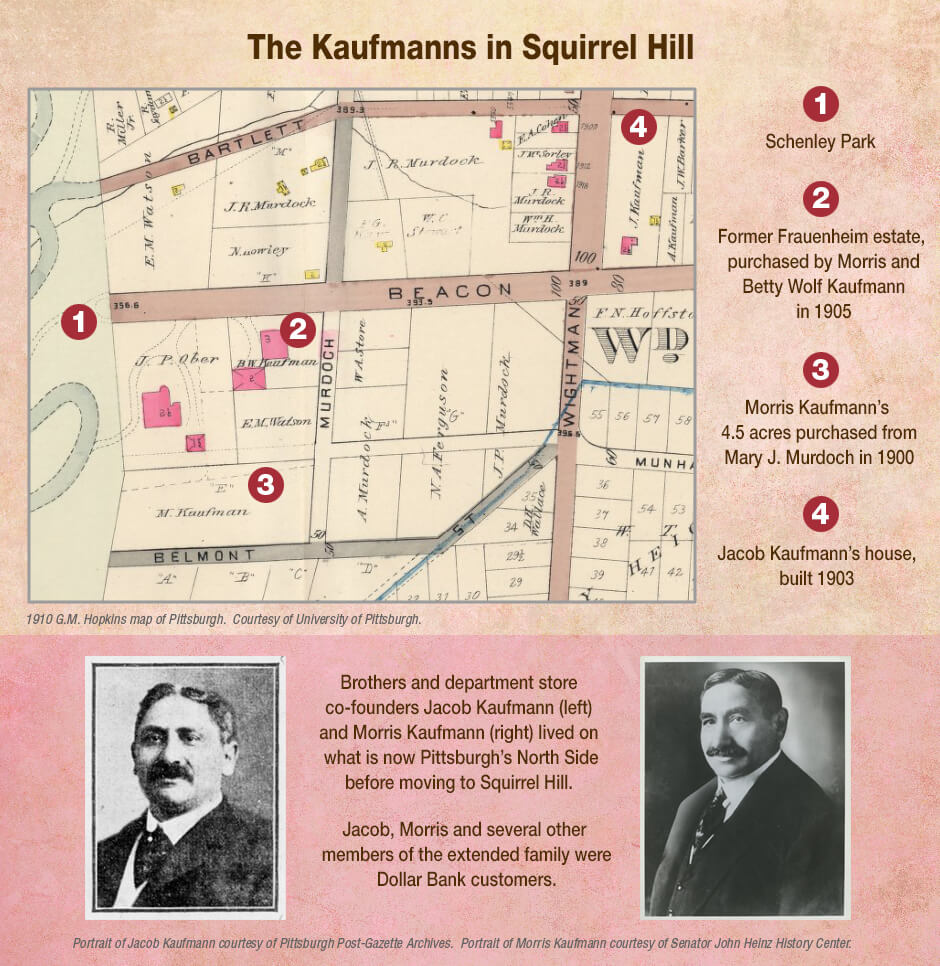 Morris Kaufmann
The pioneer in the cross-city move was Morris Kaufmann, who bought 6.5 acres of investment property on Shady Avenue near Phillips Avenue as early as 1892. Almost as soon as the streetcar line was built, Kaufmann moved his family to the East End. The 1895 Pittsburgh Blue Book lists Morris, his wife, Betty Wolf Kaufmann, and their three children living on Forbes near Wightman. Although the house cost $75,000 to build, no house number was assigned, reflecting the barely-developed nature of the neighborhood at that time.
Jacob Kaufmann
Older brother Jacob Kaufmann built a house on the northeast corner of Beacon and Wightman in 1903. His property occupied the entire block between Beacon and Bartlett, and was around the corner from brother Morris' house. Jacob's stately 20-room residence was fashioned from stone and Pompeiian brick. The house remained in the Kaufmann family until it was purchased by Eugene S. Reilly in 1923.
In 1905, after a decade on Forbes Avenue, Morris Kaufmann moved his family to a larger, less busy spot in the neighborhood, the former A.A. Frauenheim mansion on Beacon Street. Kaufmann paid $188,000 for the purchase. In lieu of cash, he traded his Forbes Avenue residence and the acreage at Shady and Phillips as two of multiple properties involved in the deal.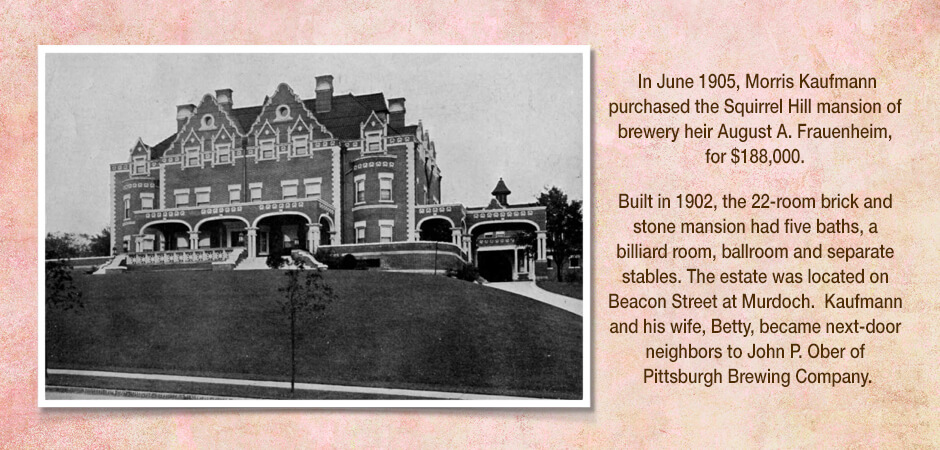 Ludwig Kaufmann
Cousin Ludwig Kaufmann (1888), co-founder of rival department store Kaufmann & Baer, lived on Sheffield Street with his cousins after arriving in Pittsburgh. Eventually, he, too, made the move to the East End, taking up residence on South Graham Street around 1903 before moving to the Beacon and Wightman area near his cousins just a few years later. By 1920, he and his family were renting the residence at 1830 Wightman. After retirement, Mr. Kaufmann moved to the Schenley Apartments.