1845 - 1940
Martin B. Leisser was born in Pittsburgh to German immigrant parents, Balthazar and Johanna Leisser. His father worked as a teamster and glass packer. In addition to Martin, the Leissers had a younger son, Charles; the brothers would remain close throughout their lives.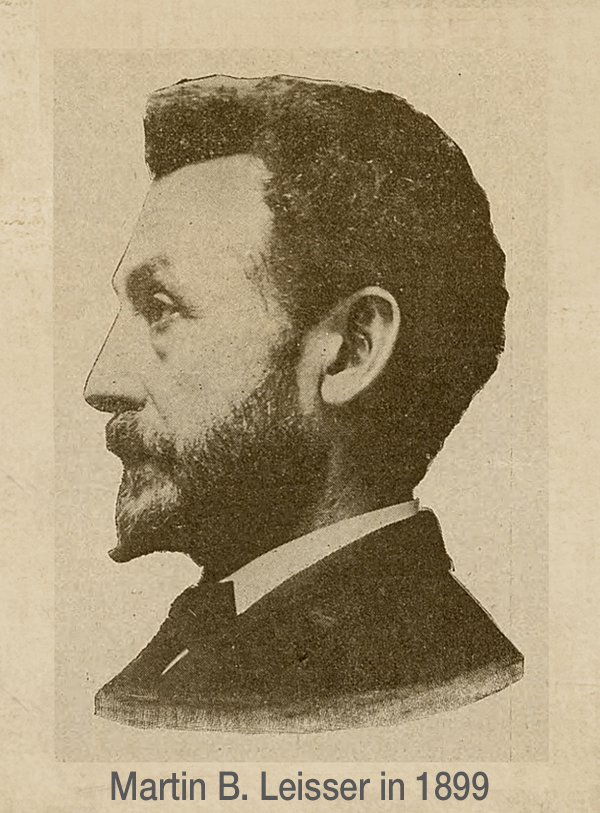 The South Side neighborhood where Martin B. Leisser was born and spent his childhood was "like living in the country," Leisser later recalled, a place of farms and forests. Leisser played stick ball (an early version of baseball) with his brother and friends and explored apple orchards and cabbage patches. It was here where he gained his lifelong love for the outdoors.Leisser started painting as a youth, earning money by decorating furniture with floral designs. He saved up enough money to study painting in Europe, there being no art schools in Pittsburgh at that time. Leisser stayed overseas for five years. He was a pupil of figure painters Gustave Boulanger and Jules Joseph Lefebvre at the Académie Julian in Paris. In Munich, he studied under Professor Dietz at the Academy of Fine Arts.

Returning to Pittsburgh in the early 1870s, Leisser joined a burgeoning artists' community in Pittsburgh. As a youth he had studied the paintings of George Hetzel, and now he became a colleague of the famous landscape artist. Leisser was part of the second generation of Scalp Level painters, a group founded by Hetzel. The two painters were friends as well as colleagues. In 1898, when Hetzel moved out of his studio on Fourth Avenue in the heart of Pittsburgh's financial district, Leisser took over the space, which he kept for the next 25 years until he moved his studio to Ridge Avenue on the North Side.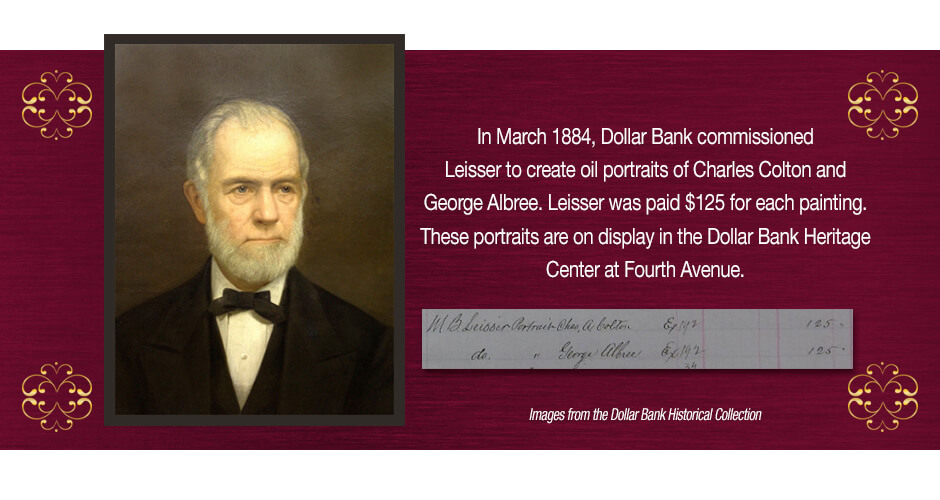 Leisser became an accomplished and in-demand portrait artist. He painted scores of eminent Pittsburghers and their families, sometimes working from photos to produce posthumous portraits. Among Leisser's notable local subjects were Stephen Foster, Mary Schenley and Andrew Carnegie, the last of whom Leisser said could not hold a pose. Leisser solved Carnegie's fidgeting problem by having the industrialist read a newspaper while Leisser painted.

Leisser created at least two oil paintings for Dollar Bank. In early 1884, the bank commissioned Leisser to paint posthumous portraits of Charles Colton, the bank's founder, and George Albree, its first president. Leisser was paid $125 for each portrait. The paintings are on permanent display in Dollar Bank's Heritage Center at Fourth Avenue.

Leisser's other connection to Dollar Bank was through the Speer family. William Wood Speer (1877-1960) was an artist who was the son of Dollar Bank president and former plow manufacturer William W. Speer. Will Speer, as he was known, started as a pupil of Leisser and became a friend and colleague. In 1907, Leisser and Speer rented three rooms on the fourth floor of the McCance Building for exhibits and working space. The McCance Building was home to the studios of a number of Pittsburgh artists at that time, including Albert F. King, Mary McAuley and Susan Irwin Haymaker. The collaboration between Leisser and Speer endured for decades. Speer inherited Leisser's Ridge Avenue studio in 1940 after Leisser's passing.

Martin B. Leisser's contributions to the Pittsburgh art community as a teacher would be impossible to overstate. Leisser taught life classes at the School of Design for Women and later became head of the art department at the Pennsylvania College for Women (now Chatham University). A friend of Andrew Carnegie, Leisser was instrumental in getting an art school included at the Carnegie Institute of Technology (now Carnegie-Mellon University). Leisser served on the board of trustees at Carnegie Institute and was a member of its Fine Arts Committee.

It was Leisser who championed giving female art students an education equal to that of their male counterparts. When the Pittsburgh School of Design for Women was founded in 1865, its students, in keeping with Victorian mores, were at first allowed to draw only the heads of live models. Figure drawing was practiced from studying plaster casts. Principal Annie Henderson introduced the drawing of arms and legs from live models. When Leisser succeeded her as principal in 1899, he took the bold step of allowing unclothed models in the classrooms of students studying figure drawing.

A member and director of the Pittsburgh Art Society, Leisser was also a member of the Pittsburgh Artists' Association. His interest in the cultural life of Pittsburgh was not confined to the visual arts. Leisser was also part of a literary society and an early patron of the Pittsburgh Orchestra.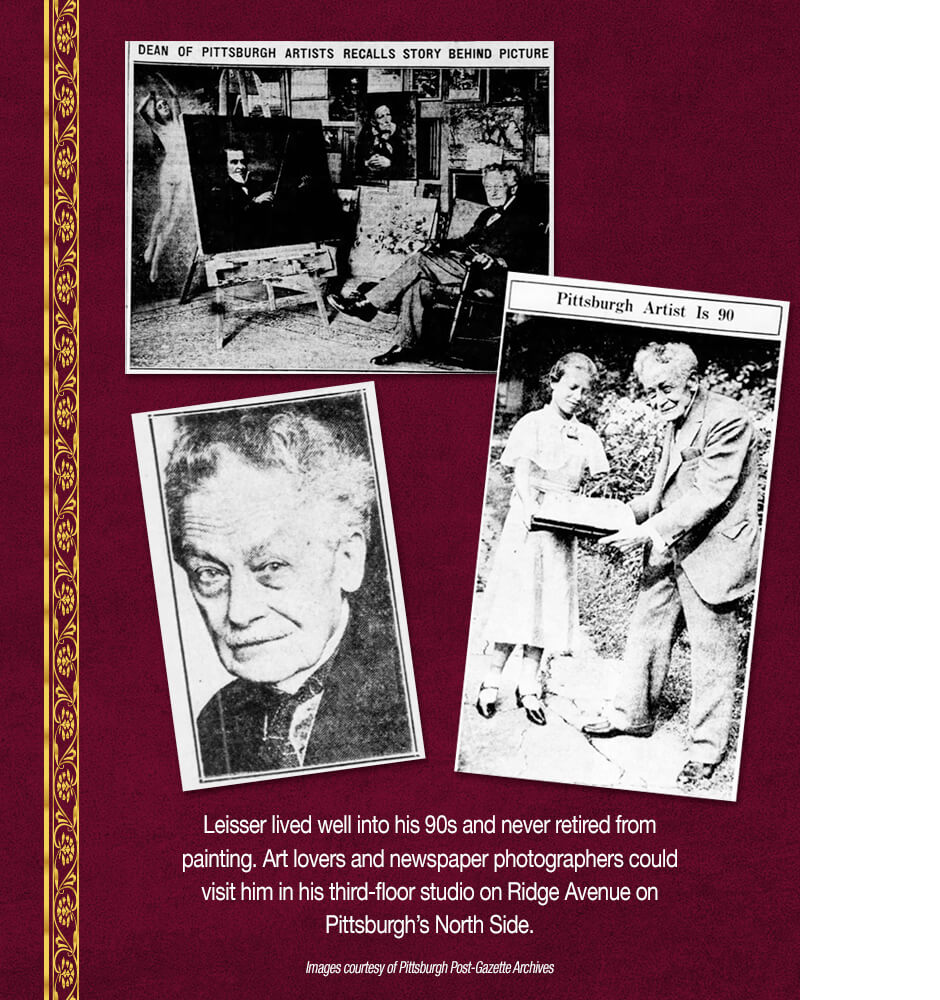 Although his mainstay in earning a living as an artist was portraiture, Leisser also painted city scapes and landscapes. He was one of the early artists to tackle the subject of Pittsburgh's industrial character. A 1904 newspaper article on his Pittsburgh paintings described him as "loving the greys" of the city where he was born. His 1892 painting "Boyd's Hill" depicts a winter scene familiar to anyone who has seen the steel city's snow, smoke, brick buildings and back yard shacks mingled in the same frame.

Leisser filled hundreds of canvases with landscapes, many inspired by travels throughout the United States and abroad. Europe, Florida, California, New Mexico, Hawaii and parts of South America were all captured in his paintings.

In 1884, Leisser married Sarah Montgomery Stewart, a talented artist in her own right. The couple embarked on a European honeymoon that was supposed to last one year but stretched into nearly five. They toured the great cities of that continent, visited art exhibitions, and kept their Pittsburgh friends and family apprised of their travels through frequent correspondence. Leisser even designed and built his own camera during this trip so he could photograph Europe's capitals. Sarah Leisser died in 1905 at the age of 57. Martin B. Leisser never remarried. After his wife's death, Leisser undertook his extensive travels with his brother, Charles, until the latter's death in 1928.

Charles and Martin Leisser both wanted to leave a lasting gift to the Pittsburgh art community. Charles' 1928 will left considerable money towards an art fund to be created upon Martin's death for the benefit of local art students and schools. The Leisser Art Fund, also known as the Martin B. Leisser Art Fund, was the result of the brothers' benefaction. The Leisser Art Fund was used to purchase works of art for the Carnegie Institute. It was also the source of prize money for students. Among the young artists who won the Leisser Prize in the years right after Martin Leisser's death was Andrew Warhola in 1946. Andrew Warhola, another Pittsburgh native, became internationally renowned as Andy Warhol.

Martin B. Leisser opened a savings account with Dollar Bank in 1884.