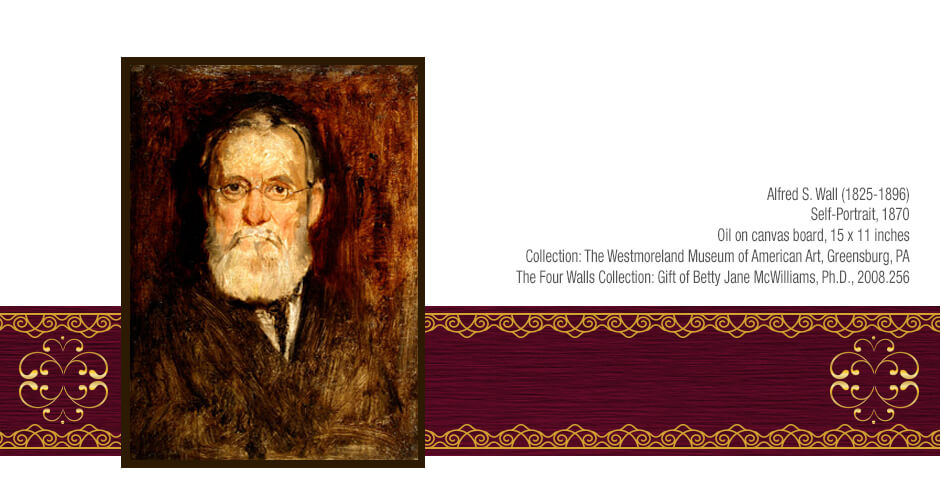 1825–1896

Alfred S. Wall was born in Mount Pleasant, Westmoreland County, Pennsylvania, to English immigrant parents, Lucy (Hardyman) Wall and William Wall, a stone mason and tombstone carver. Of the Walls' six children, the oldest three were born in Oxfordshire, England, and the youngest three in Mount Pleasant. The family moved to Pittsburgh in the 1830s.

In 1846, Alfred S. Wall married Sarah Elizabeth Carr, whose father was a maker of horse-drawn carriages. The young couple lived for a time with her parents while Alfred launched his career as an artist. He soon was earning a living from painting portraits.

Unlike his contemporary, George Hetzel, Alfred S. Wall never went to Europe to study painting. Wall was self-taught and came from a family endowed with craftsmanship and artistic talent. Wall, who excelled at landscapes, became a member of the Scalp Level School of artists founded by Hetzel.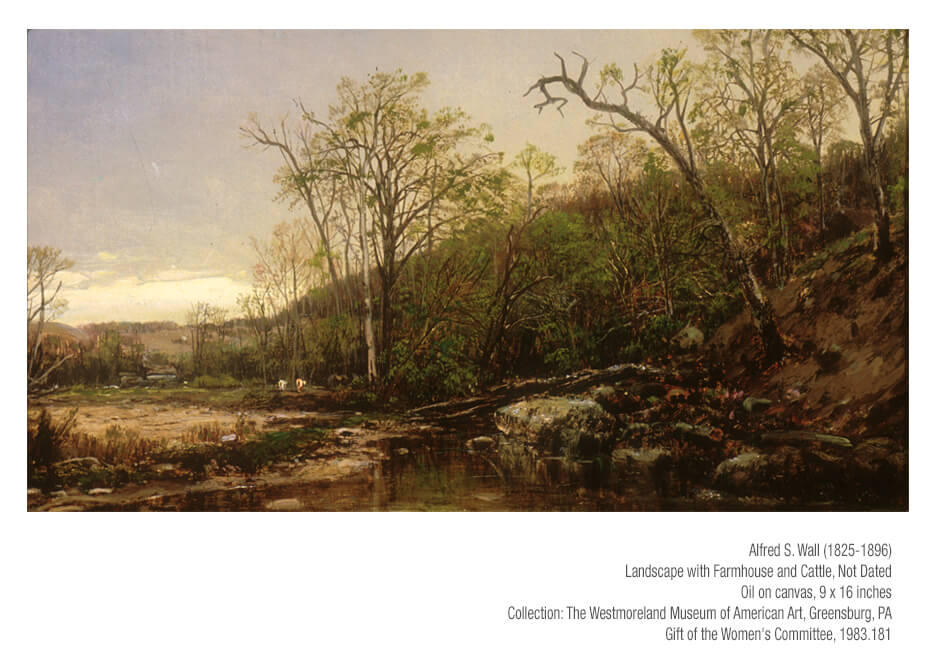 In the 1860s, Alfred S. Wall maintained a studio in downtown Pittsburgh at 67 Fourth Avenue, a space he shared with his older brother, William, who was also an artist. Alfred S. Wall lived on Wood's Run at that time, but he later moved his family to Allegheny City (North Side), where they bought a home at 104 (later 814) Arch Street. This premises would remain the Wall family home and a center of artistic activity for the next several decades.

In 1868, Wall joined the firm of J.J. Gillespie & Co. as one of four partners, along with founder John Jones Gillespie, his son, Asa Gillespie, and Louis Englert. In addition to being an artist, Wall had impeccable taste in paintings. His acumen as an art critic was first-class and widely acknowledged throughout the city.

In a tribute to Wall shortly after his death in June 1896, a local newspaper praised Wall for his generosity in giving time and advice to fellow artists. "There is not one artist in the city, nor has there been one for many years past, who would not place a high estimate on Mr. Wall's opinion of their work. He was what might be termed an out-and-outer. If asked for an opinion on a painting or sketch, he gave it as if he didn't know the author. And no matter how unfavorable his opinion, it was never discourteous to the artist, nor would it savor of fault-finding. After giving an opinion as to the art value of a work he would take special delight in showing the author its strong and weak points, and in suggesting how the subject might be handled with better effect." (Pittsburgh Commercial Gazette, June 11, 1896, page 4)

Wall's commitment to Pittsburgh's small but growing arts community was also demonstrated in his support for the city's Art Society, which began as informal meetings of art and culture lovers in the fall of 1873 and grew to an official organization with a constitution in March 1874. That same month, the Art Society members elected officers, and Wall was chosen as the Society's first secretary.

Wall's knowledge of and passion for art was part of the talent that made J.J. Gillespie & Co. a core part of the artistic life of Pittsburgh in that era. Gillespie's galleries were where many Scalp Level School artists exhibited their works. When Pittsburgh industrialists and wealthy professionals wanted to purchase art, they would visit the premises of J.J. Gillespie & Co. and consult with Alfred S. Wall. As a contemporary newspaper noted, "Many of the finest paintings owned in the city were bought on his judgment, while in all art exhibits of note he was a moving spirit if not chief director."

Wall was notably the "moving spirit" behind the grand exhibition of 150 loaned paintings that debuted, in the middle of a gray Pittsburgh winter, in February 1890 at the Art Gallery in the Carnegie Free Library building in Allegheny City. Wall's discriminating eye, and his in-depth knowledge of who owned what, made him the fitting choice to lead J.J. Gillespie & Co.'s management of the exhibit. Wall spent weeks tracking down "the best pictures that can be got in the city," per the Pittsburgh Press, and persuading their wealthy owners to loan their art to the city for benefit of the general public.

Lack of a public art gallery had long been a complaint of Pittsburgh artists, art lovers and educators. The Carnegie Library's Art Gallery was intended to remedy this flaw. Its debut in February 1890, part of the dedication of the Library itself, was a stunning success. Due to the strenuous efforts of Alfred S. Wall and the art committee, more than $300,000 in high-quality works of art were on display for the public. To protect the precious paintings, canes, umbrellas and even ladies' fans were forbidden in the art gallery.

The abundance of fine art in the city was a testament to Pittsburgh's culture, and its availability to the public a testament to the steel city's spirit. The dedication of the Library and Art Gallery in February 1890 was attended by every Pittsburgher of note, including Andrew Carnegie, and the dedicatory remarks were given by none other than President Benjamin Harrison, who was visiting Pittsburgh.

The art exhibit, originally planned to last only a few days, was met with so much enthusiasm by the art-hungry local residents who attended, that the exhibit was extended, ultimately drawing more than 30,000 visitors. The Pittsburgh Dispatch declared the Loan Art Exhibition "the most profound impression, aesthetically, ever made upon the people of these cities," and that "the influence of that notable collection cannot be overstated."

The eagerness for public art space was not lost on Andrew Carnegie, who announced in May 1890 that he would endow an art gallery with $50,000 per year, dedicated to the support and promotion of American art. That project was part of a larger venture to construct a complex of cultural buildings in Pittsburgh's East End – a public library, concert hall, art museum and gallery.

Alfred S. Wall was a charter member of the board of trustees of the East End's Carnegie Art Museum, and a member of its Fine Arts Committee. Upon his death in 1896, he was eulogized in local papers as Pittsburgh's "Nestor of art," a wise counsellor "naturally looked up to and respected by the younger artists."

Alfred S. Wall opened a savings account with Dollar Bank in June 1864.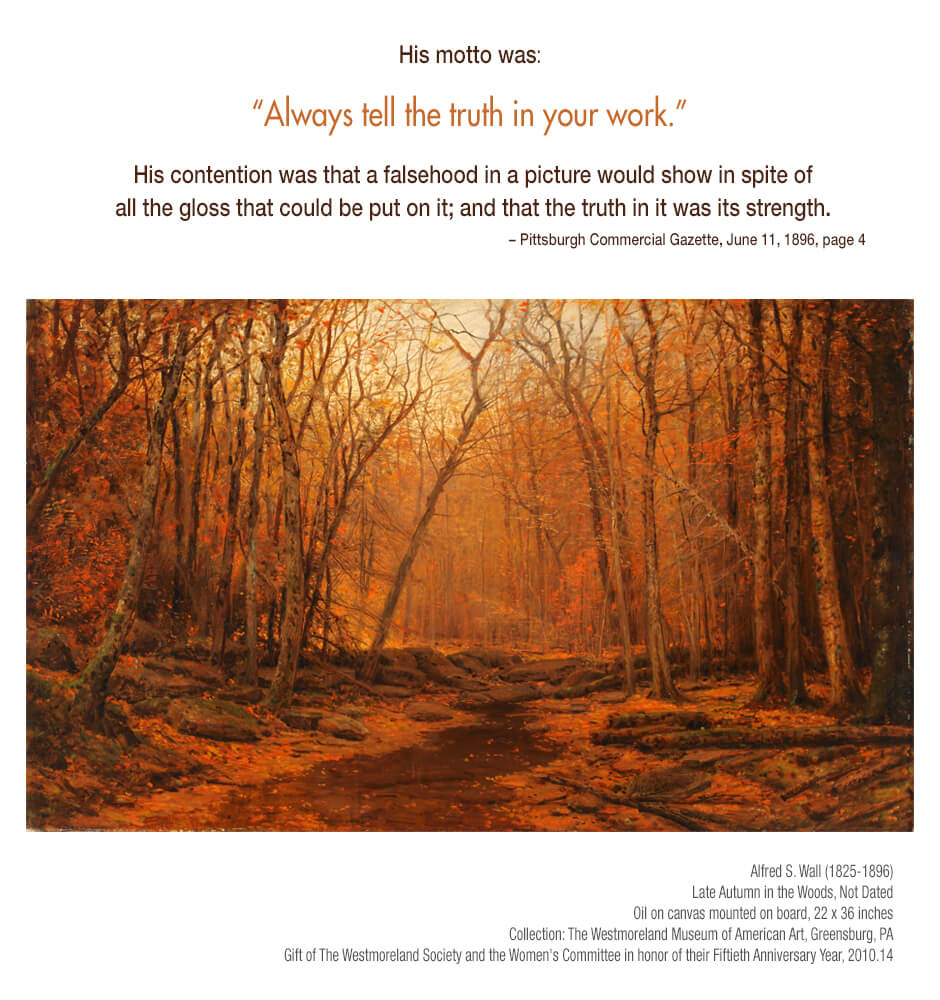 A Family of Artists

Alfred S. Wall was not the only artist in his family. His brother, William Coventry Wall (1810-1886), was also an acclaimed painter. One of the Scalp Level School artists, he created landscapes of the Scalp Level area as well as views of Pittsburgh and its rivers.

Two of Alfred S. Wall's children followed their father into the art world. Alfred Bryan (A. Bryan) Wall (1861-1935) painted landscapes and was particularly fond of bucolic scenes with shepherds and sheep. Wall also painted a life-size portrait of Andrew Carnegie which was hung in the catalog room of the Carnegie Free Library in Allegheny City, when the building opened in early 1890.

The landscapes of Sarah Elizabeth "Bessie" Wall (1872-1937) had a "vivacious style" that captured nature's "dramatic mood," wrote a Pittsburgh Post reporter in 1923. Bessie Wall was one of the Scalp Level School artists and earned acknowledgment for her art on its own merits, apart from the reputations of her father and brother. Bessie and A. Bryan Wall shared a studio in the family home on Arch Street.