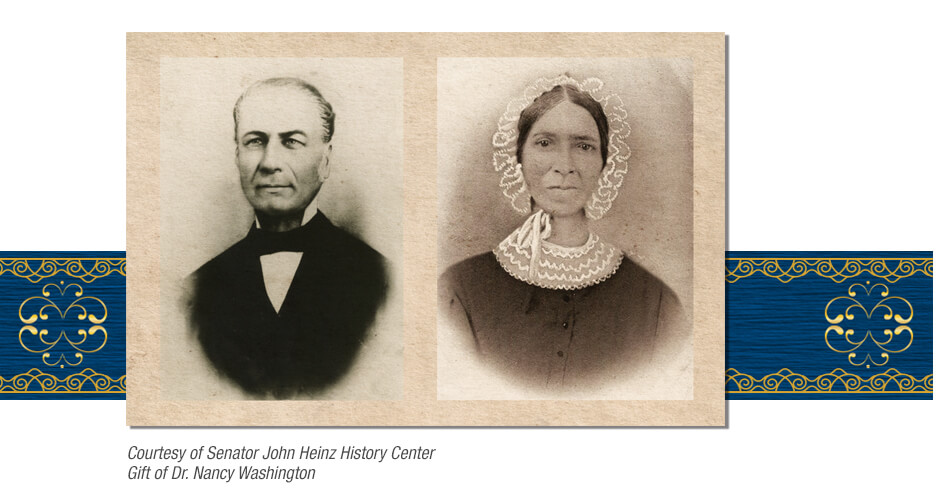 Lewis Woodson (1806-1878) and his wife, Caroline Woodson (1805-1892), were the patriarch and matriarch of one of the most notable African American families in early Pittsburgh. At least eleven Woodson family members became Dollar Bank customers by the early 1900s.

Born in Virginia, Lewis Woodson moved to Chillicothe, Ohio with his parents and siblings around 1821. There he met and married another Virginia native, Caroline Robinson. Lewis and Caroline had fourteen children, ten of whom survived to adulthood.

The Woodsons moved to Pittsburgh around 1830. Both the Woodson men and women became small-business entrepreneurs. Lewis Woodson, his sons and in-laws operated five barbershops around downtown and vicinity, while Caroline and her daughters made wigs, ran a millinery and started a ladies' hair salon.

Lewis Woodson was a preacher and leader in the AME Church. At the church that would become known as Wylie Avenue AME (now Bethel AME), he co-founded Pittsburgh's first school for African American children in 1832. Later, he mentored Benjamin Tucker Tanner, who went on to become an AME bishop. Woodson was also an abolitionist, involved in Pittsburgh's Underground Railroad. He was one of the founding trustees of Wilberforce University in Ohio.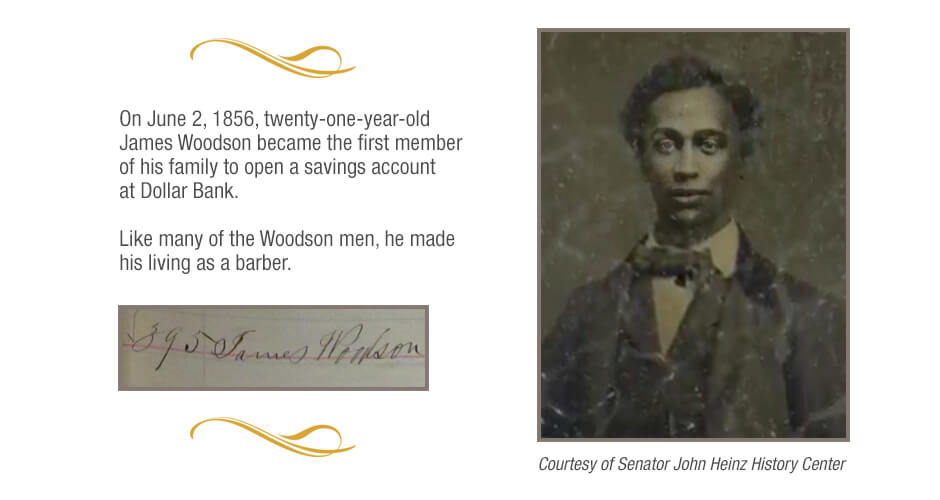 Lewis and Caroline's son Granville S. Woodson was a Pennsylvania delegate to the National Convention of the Colored Men of America in the 1860s and 1870s, and a member of the Pennsylvania State Equal Rights League.

John L. Woodson, Lewis and Caroline's oldest son, was the first African American to be issued a mortgage by Dollar Bank, in February 1860.

Jemima Woodson ran a millinery on Fourth Street with her mother, Caroline, on the same premises as Lewis Woodson's barber shop.

Virginia Woodson, who married barber Jacob Proctor around 1865, was a charter member of the Aurora Reading Club, founded in the Hill District in 1894. She established the ladies' hair salon that was run by successive generations of Woodson-Proctor women for nearly 100 years.

Howard D. Woodson was a civil engineer who worked in Washington, D.C. after earning his engineering degree at Western University of Pennsylvania (University of Pittsburgh) in 1899. Woodson became a civic leader in Northeast Washington, D.C. A high school was named in his honor in 1972.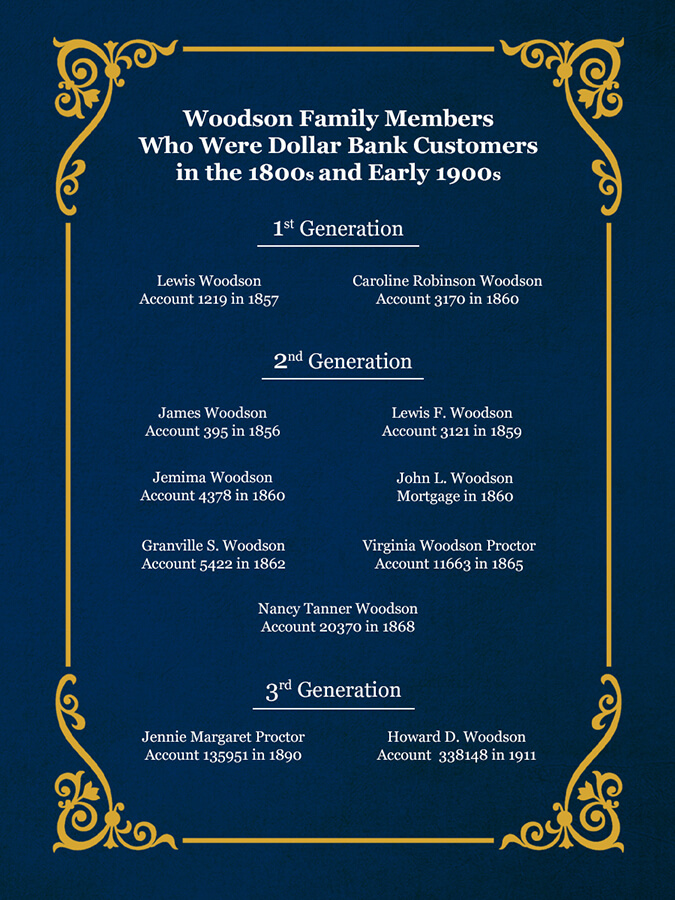 Seventh- and eighth-generation descendants of Lewis and Caroline Woodson still live in the Pittsburgh area. Woodson family reunions draw hundreds of members from all across the country.