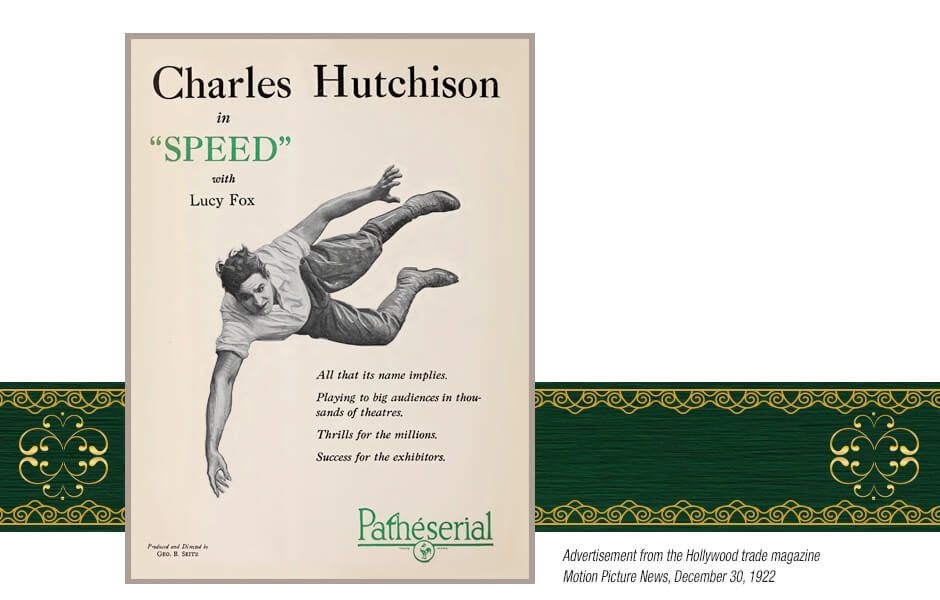 1879 – 1949
When Charles A. Hutchison walked into Dollar Bank on a chilly day in late March 1920 to open a savings account, he was en route from New York to Los Angeles and had stopped over in Pittsburgh to visit family and friends.

Hutchison was both a Pittsburgh native and a Hollywood star, approaching his zenith of celebrity in 1920. He had just signed a new contract with Pathé, then at the forefront of five major studios producing film serials. In early Hollywood, serials were a popular storytelling format in which the story was divided into individual chapters characterized by action, suspense, and cliffhanger endings. The business scheme behind the serial format was to draw audience members back to the theater each week to watch succeeding chapters and, ultimately, to see how the story resolved.

In 1920, Charles Hutchison was working in the era of silent films. No dialogue was not a problem. Hutchison's movies were action adventures, crammed with hair-raising stunts performed by Hutchison himself. His daredevil exploits shot him to the top of Pathé's box office earners, where he was the studio's most popular serials star for four straight years.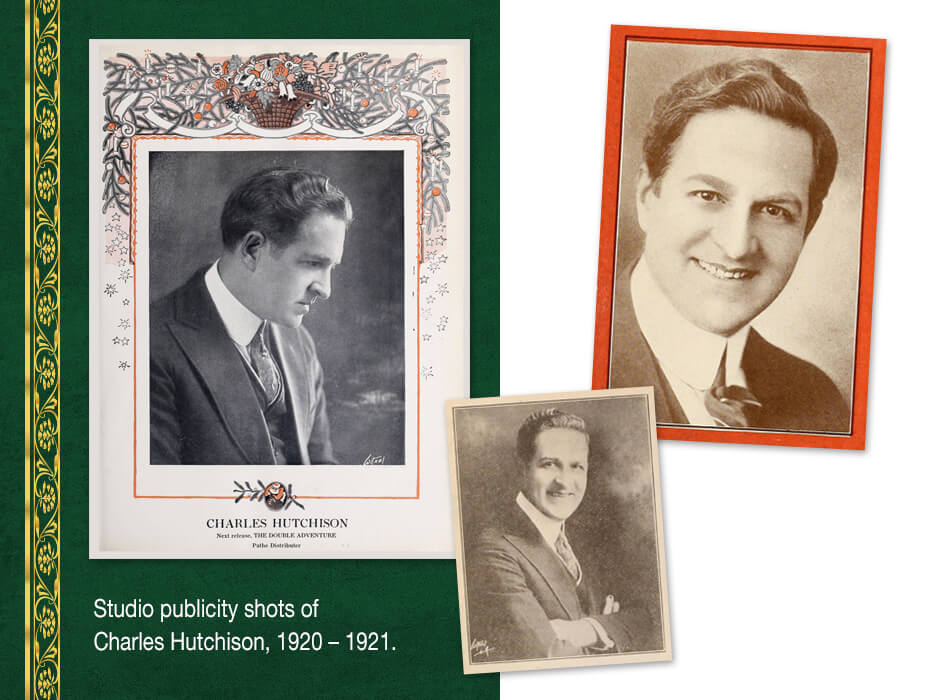 So how did Hutch, as he was known around Hollywood and to his legions of fans across the country, get from Pittsburgh to Hollywood?

Hutchison was born in Allegheny City in 1879 (some sources say 1880). The Hutchisons were an extended family of Scottish immigrants with deep ties to the North Side and near neighborhoods. Charles Hutchison's grandfather and uncles were gardeners who landscaped North Side Park, and a cousin ran a confectioner's store in Bellevue for 50 years.

Recalling his Pittsburgh youth, action-star Hutchison admitted he had not been an attentive student in school. He was more interested in sports than in books. He and his friends played and got into mischief in their neighborhood and went swimming in the Allegheny River during summer, diving off the sides of coal barges and other vessels. As a teen, Hutchison took boxing lessons at Weber & Hummel's gymnasium on Beaver Avenue.

At that time, Hutchison had no inclination to be an actor. His ambition was to become a professional athlete. As a young adult, however, he became smitten with the theater. He moved to New York and may have spent a year in England pursuing a stage career. In 1910 he was back in Pittsburgh for a short time, living with his aunt and cousin on Wellesley Avenue in Highland Park. On the 1910 U.S. Census, Hutchison listed his occupation as vaudeville actor.

Hutchison pursued a theatrical career for nearly a decade, working at every variety of stage production he could get a job in – stock companies, classical theater, comedies, vaudeville. He went to New York again in his early thirties, where he met actress Edith Thornton. They were married in 1915.

By this time, Hutchison was acting in and directing silent movies, mostly melodramas, being produced in New York City. Hutchison worked for independent companies such as Triumph, Crystal, Victor, Kalem and Cosmos, as well as major player Vitagraph.

With more than two dozen films under his belt, Hutchison's breakout role came in the "Wolves of Kultur," released by distributor Pathé in October 1918. The 15-chapter serial film was written and directed by Joseph A. Golden, whom Hutchison had already been working with for several years at The Crystal Film Company. Featuring daring action scenes performed by Hutchison and female lead Leah Baird, "Wolves of Kultur" made Hutch a star.

Hutchinson's second lead role, for which he now received headliner status in the advance publicity, was in the serial "The Great Gamble," also written and directed by Joseph A. Golden and distributed by Pathé. Hutch performed his own stunts, which were even more daring than in "Wolves of Kultur." Among these were diving into a river from the top of a 135-foot-high grain elevator; jumping from the roof of an 80-foot-high building across a 14-foot alley to another roof twelve feet lower; wrestling with a black bear; leaping into the ocean from an airplane; swinging on a rope around the corner of a building and into an open fourth-story window; and riding a motorcycle at 70 mph to make a leap across a 25-foot gap in a broken bridge. All this was done with virtually no camera tricks.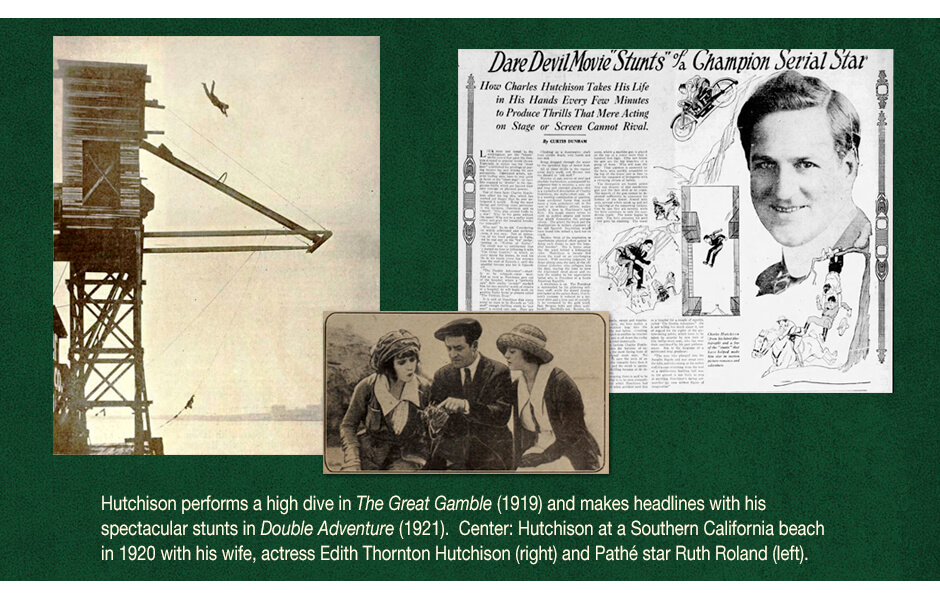 Audiences were astonished and thrilled at the stuntman-actor's feats. The danger to Hutchison was very real. A bedazzled entertainment reporter wrote that while other men took their lives in their hands, Charles Hutchison took his life in his hands and juggled it. Hutchison, for his part, seemed to take it all in stride, insisting that he carefully planned and rehearsed his stunts, never undertaking one he was not confident in achieving. His wife, Edith, joked that the rehearsals were due to Hutchison's "Scottish caution."

Hutchison's next action-adventure serial, "The Whirlwind," co-starring his wife, was his third-in-a-row collaboration with Joseph A. Golden. The picture was released in early 1920. The publicity highlighted the Hutchison stunts the audience had come to expect.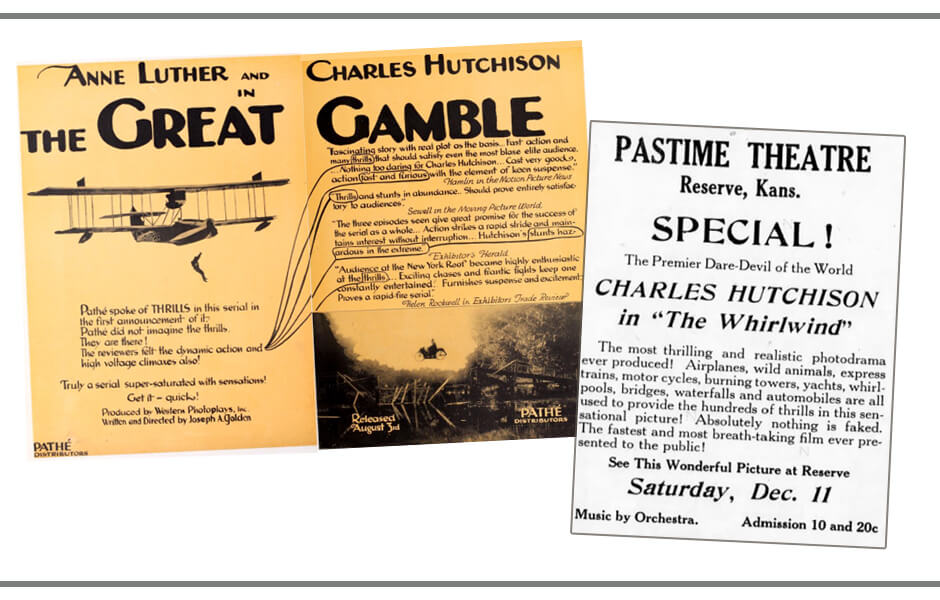 His star on the rise, Hutchison signed a four-serial contract with Pathé in March 1920. This deal would propel Hutch to the pinnacle of his celebrity, where he would be billed as "the thrill-a-minute stunt king" and his pictures would continue to deliver action-packed adventures to audiences.

"Double Adventure" was the first of his four serials under the new contract. With Hutchison performing his own stunts as in previous pictures, production of all fifteen chapters proceeded without incident. Hutchison leaped between speeding automobiles, did a hand-over-hand climb on a rope stretched across a rocky gorge, climbed a twelve-story building in human-fly fashion, and carried off a motorcycle jump across a ravine.

On a retake, however, there was an accident. The stunt called for Hutchison to jump off the top of a collapsing oil derrick into a tree. Hutchison made the jump and the landing, but lost his hold, tumbling nearly 60 feet down through the branches of the tree. He broke both his wrists and badly lacerated his legs. The accident put him in the hospital for weeks. Since production was essentially wrapped, his hospitalization did not affect the schedule of the picture. It did, however, result in a major change in how stunts would be done in future Hutchison pictures at Pathé. Simply put, the studio was not going to let their valuable star perform his most dangerous stunts. After "Double Adventure," there would be stunt doubles.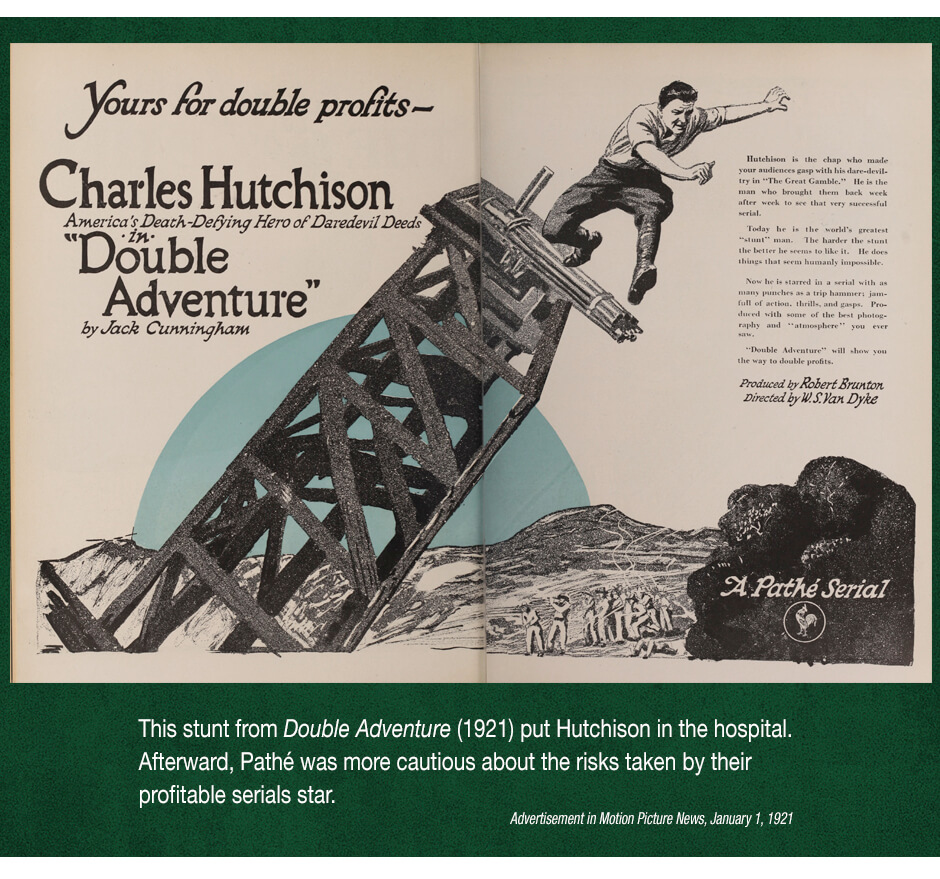 Of course, this fact was carefully concealed from the public. It was not deemed advantageous for moviegoers to know that the daredevil king now had other daredevils helping him look good on screen. Hutchison was still involved in every aspect of the stunt planning, however, and the stunts in the next three Pathé pictures, "Hurricane Hutch," "Go Get 'Em, Hutch" and "Speed," captured the signature excitement of Hutchison's action style – motorcycles, planes, ships, trains, dangerous animals, daring leaps, dives from clifftops, tight-rope walking, rides through raging rapids and plunges over waterfalls.

As the titles suggest, Hutch was not just the star's nickname; it was also now his character's name in the stunt-packed serials. Hutch was a brand. Cognizant that his most ardent fans were young boys, the studio publicized "Hurricane Hutch" as a censor-proof (family-friendly) picture – no guns, no knives, no crime. Just clean, fun action with a wholesome hero. Theater owners who had shied away from showing serials because of the risk of censor interference booked "Hurricane Hutch," with the result that the picture broke box office records around the country. Hutchison wrote the scenarios for both "Hurricane Hutch" and "Speed" so that the stories incorporated as many stunts as possible.

"Speed" concluded his contract for Pathé and was his last major success. After his work for Pathé was finished, Hutchison and his wife sailed for England, where the stunt king worked on more serials which continued the adventures of his Hutch character.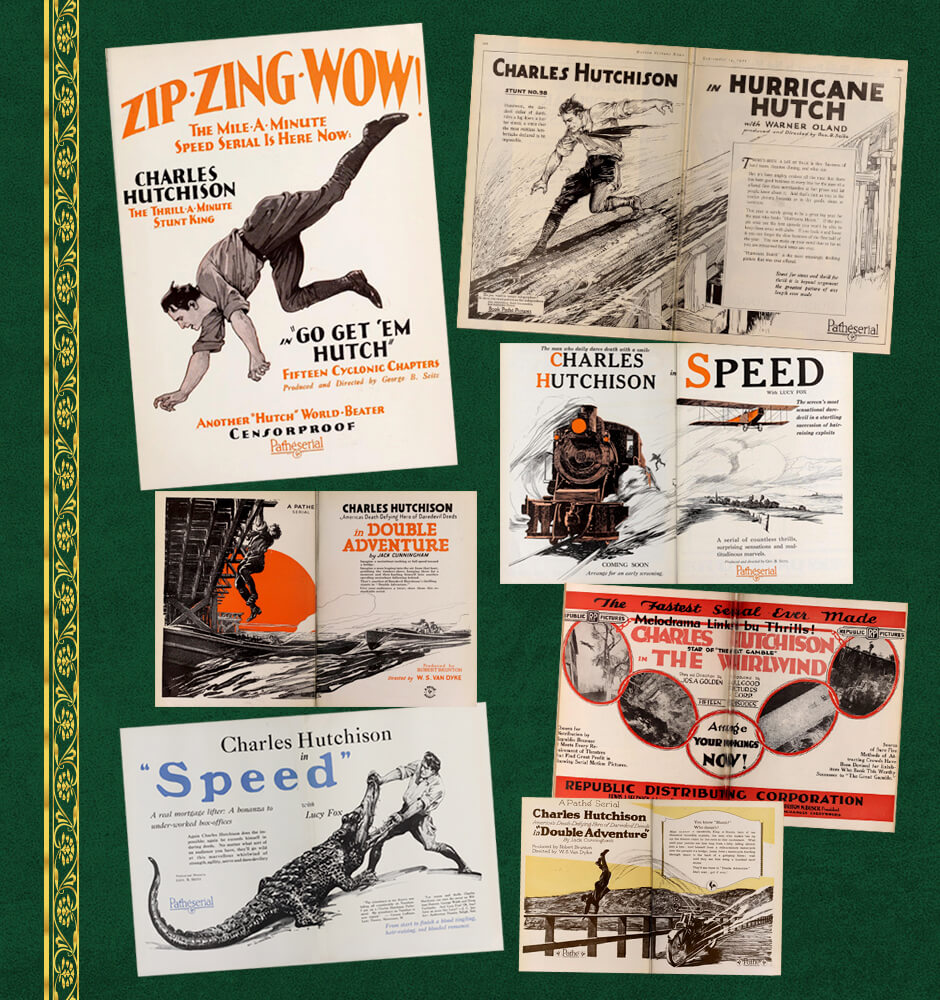 The couple returned to Hollywood a few years later. Middle age and weight gain had eroded Hutchison's credibility as an action star, so Hutchison took smaller parts and resumed working behind the camera as a director. He remained a part of Hollywood for the next two decades, through the advent of talking pictures and WWII.

Charles Hutchison's last film performance was an uncredited minor role in 1944. Fittingly enough, the picture was a serial, and the main character, played by Dick Purcell, was a superhero – none other than Captain America.

Hutchison passed away in Los Angeles in 1949 and was interred in Hollywood Forever cemetery, alongside many other celebrities from the entertainment industry. His widow, Edith, passed away in 1984.

Charles Hutchison is an inductee in the Hollywood Stuntmen's Hall of Fame.