Dollar Bank Names Peter Kubiska Chief Marketing Officer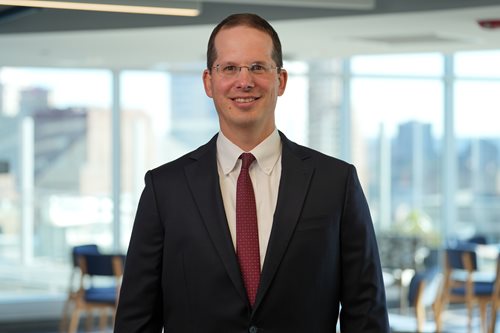 Dollar Bank announced today that Peter Kubiska has been named its new Chief Marketing Officer. Kubiska originally joined Dollar Bank in 2002 as a Marketing Product Manager.
"Pete has played an instrumental role in leading our strategic direction, brand evolution and product management," said Jim McQuade, President and CEO, Dollar Bank. "His wealth of banking knowledge, extensive marketing experience, paired with his tireless efforts to drive innovation and collaboration made his promotion a natural fit for this critical senior management position."
Kubiska will oversee the Marketing Communications and Product Management Teams with a primary focus on the Bank's retail growth. Pete will be responsible for the ongoing evolution of our brand while supporting lending, retail and wealth management initiatives. He currently oversees the Bank's Rate Committee and serves on the Bank's Asset Liability Committee.
"I am humbled by the opportunity to lead Dollar Bank's strategic initiatives," said Kubiska. "I know our team will work diligently to support Dollar Bank's growth efforts by understanding our customers' needs, creating transformational experiences and identifying where we are poised for growth now and into the future."
Kubiska brings over 20 years of marketing and finance leadership experience to this role. Prior to his tenure at Dollar Bank, he served as a product manager with Thomson Financial and a personal finance advisor with American Express Financial Advisors. He holds a Master of Business and a bachelor's degree in Finance from Loyola University of Maryland and completed the Graduate School of Banking at the University of Wisconsin at Madison.
Current Senior Vice President of Marketing, Joe Smith, will be retiring at the end of January after 30-years at Dollar Bank.

About Dollar Bank
Dollar Bank has assets of more than $11 billion. Today, Dollar Bank operates more than 90 locations throughout Pennsylvania, Ohio, Virginia and Maryland with over 1,400 employees. For more than 167 years, Dollar Bank has grown to become the largest mutual bank in the United States, committed to providing the highest quality of banking services to individuals and businesses. Dedicated to aiding the communities it serves, Dollar Bank supports quality of life initiatives, financial literacy programs and organizations devoted to helping individuals and families in need. Dollar Bank (
www.dollar.bank
) is headquartered in Pittsburgh, Pennsylvania.